It is the final day of what has been an amazing trip where we've been connecting on the Road to NADA with Cars.com. Throughout our trip, we have discussed hot topics like the impact of digital marketing, customers performing the entire car-buying transaction online, hiring the right people and keeping those people. Today, CBT News continues to provide insight for our viewers with John Barr, General Manager, of Findlay Toyota. We find out how this family owned and operated company maintains top-tier services and counties to be the number one Toyota dealership in Nevada.
Findlay Toyota, located in Henderson Nevada has been providing a car shopping experience for Henderson, Las Vegas and all of the surrounding areas or over 50 years. The family owned and operated establishment is known to many as the #1 selling Toyota dealership in Nevada. They have achieved such title by building teams that work dedicatedly to streamline every transaction, guaranteeing a hassle-free and rewarding dealership experience. Findlay Toyota is fluent in 14 languages allowing them to maintain top tier customer service, for both new and pre-owned car buyers.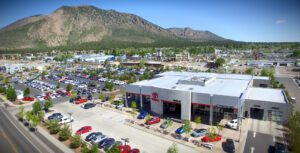 In our interview we asked John how the team was able to successfully harness the power of DealerRater's reviews and how the customers and team responded. He shared about how their partnership with Cars.com and DealerRater has helped connect the dealership with customers in more positive ways. LotShot is one feature that has become a consumer and staff favorite. The Dealership understands the energy and broad reach of the internet and they have been able to capitalize within that sector. Another passion instilled within the Findlay Toyota is how they can support and enhance the surrounding community. Also, John shares with Bridget and Joe how the training has become a core to better who they are as a service and community provider.
For more about the Findlay Toyota, and why you should always expect more growth and a ever-growing bright customer experience in the future from the team at Findlay, take a moment and watch the interview above.