One of the American auto dealer's greatest allies has announced his intention to retire at the end of 2020. Peter Welch is currently the president and CEO of the National Automobile Dealers Association, but his tenure will come to an end at the end of the calendar year.
Welch's retirement has a distinct difference to many automotive industry leadership changes and in the past months. Setting his retirement apart are two items: the opportunity to retire of his own volition when he deemed the timing to be right, and that the organization is in a much healthier position from his activities since joining the NADA Board of Directors in January 2013.
Welch states, "I've had the distinct privilege of serving associations comprised of franchised new-car and truck dealers for 30 years, and it's time for me to get ready for my proverbial ride into the sunset. We have accomplished so much on behalf of our nation's franchised auto dealers. And for the next eight months, I will be focused entirely on helping dealers get through the pandemic and unprecedented economic downturn, and assisting the NADA Board in its selection of my successor."
Advertising Partner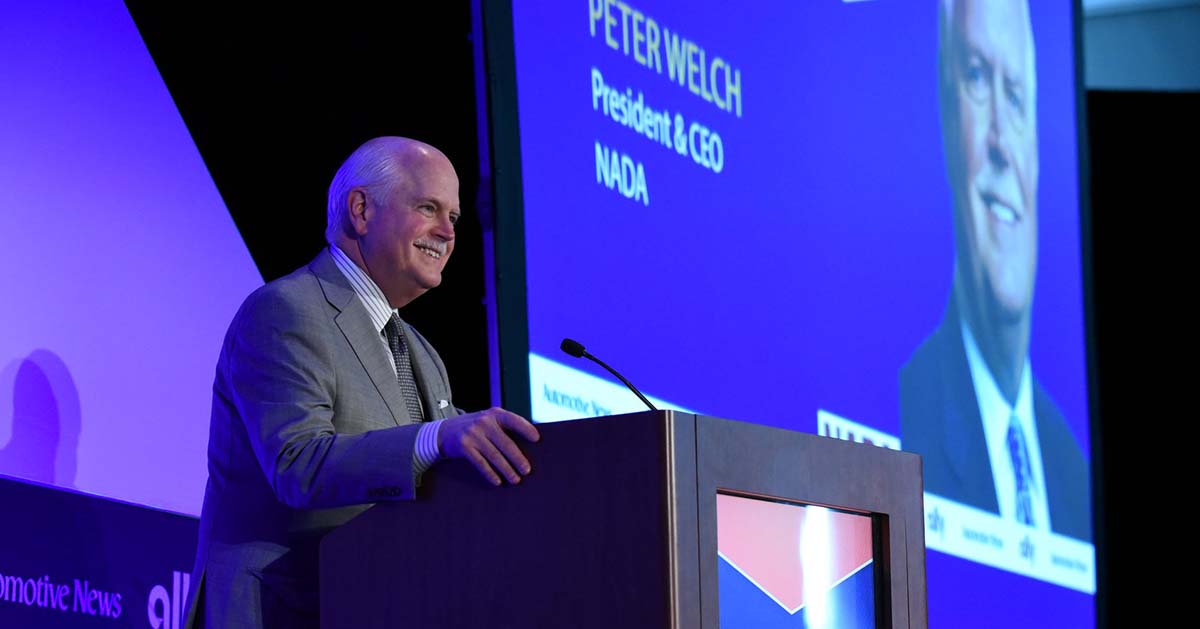 Accomplishments to Date
Welch is from Detroit, MI and attended the University of Michigan for a bachelor's degree. Later, he received a master's degree from the University of Durham, England and a juris doctor's degree from Loyola Marymount University of Law in Los Angeles, according to his NADA profile page.
After practicing law in LA, Welch continued his trajectory in 1990 as the director of government and legal affairs at the California New Car Dealers Association. In 2003, he became the president and CEO of the CNCDA until his appointment as NADA president and CEO on February 1st, 2013.
Throughout his time with NADA, Peter Welch has been instrumental in achieving significant progress for American car dealers. As the president of an organization whose primary mission is to "advocate on behalf of dealers before Congress, the federal government, manufacturers, the media, and the public", his achievements include: 
Testifying before the U.S. Department of Commerce regarding the imposition of

auto tariffs

. 

Selling off NADA's used-vehicle valuation guide.

Moving the organization into a new office in 2018.

Participating in legislation for fair auto lending practices. 

Promoting the franchised dealership model for new car sales. 

Advocating to designate auto retail as essential business during COVID-19 pandemic. 

Participating in interviews with industry publications including multiple CBT News interviews.
High Praise from NADA Chairman
Reflecting on Welch's time with the NADA, the current NADA chairman, Rhett Ricart, has only good things to say.
"Organizations like NADA are at their best when times are toughest, and right now we're at our best because of Peter Welch," said NADA Chairman Rhett Ricart. "Peter is certainly not leaving easy shoes to fill, but the organization he has built and the team he has assembled at NADA have made us fully prepared to tackle any challenge no matter how great, including the one we're in right now. As we begin the process of finding Peter's replacement, I take great comfort in the assurance Peter has given us that he will be with us every step of the way."
Related: NADA Advocates to Consider Dealerships as Essential Business
---
Did you enjoy this article from Jason Unrau? Read other articles from him here.
Car Biz Today, the official resource of the retail automotive industry.

Be sure to follow us on Facebook and Twitter to stay up to date or catch-up on all of our podcasts on demand.
While you're here, don't forget to subscribe to our email newsletter for all the latest auto industry news from CBT News.