Automakers are in a race to reinvent vehicle interiors for today's high-tech, connected customers. While performance, safety, and efficiency are still important factors, more and more car buyers are searching for vehicle cabins that are personalized, intelligent, and comfortable. These consumers are looking at taking their living room experiences on the road with top-notch cabins that cocoon, connect, and inform. 
And automakers are more than happy to oblige. New vehicle concepts tease innovative design features and the latest technology. We're already seeing sustainable materials becoming commonplace while features once reserved for tablets and gaming consoles are making their way into car interiors.  
Arguably, the reinvention of modern vehicle interiors began with Tesla and the use of a center console touchscreen. However, the industry is quickly moving away from dashboards with iPads. The current trend uses sweeping displays that combine driver instrumentation and infotainment controls into a single curved unit (albeit with two screens appearing as one continuous setup). Recent examples of this trend include the BMW iX, Ford Mustang, and Buick Envista.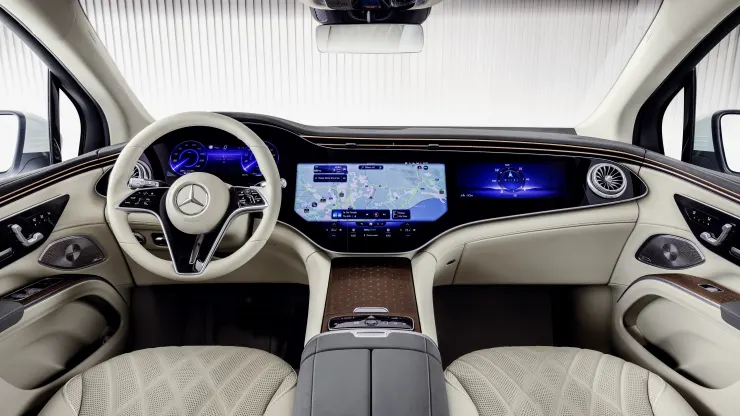 Of course, there's more to future modern vehicle interiors than new displays. Let's explore some projects that may reshape what sits on your showroom floor in the future.
Mercedes-Benz and Microsoft ChatGPT Collaboration
Earlier this summer, Mercedes-Benz announced a partnership with Microsoft for a U.S. pilot program that brings ChatGPT to the automaker's cars. Conversational artificial intelligence (AI) will take the "Hey Mercedes" voice command system to the next level. The technology provides a more advanced in-car personal assistant that works better with natural language instructions.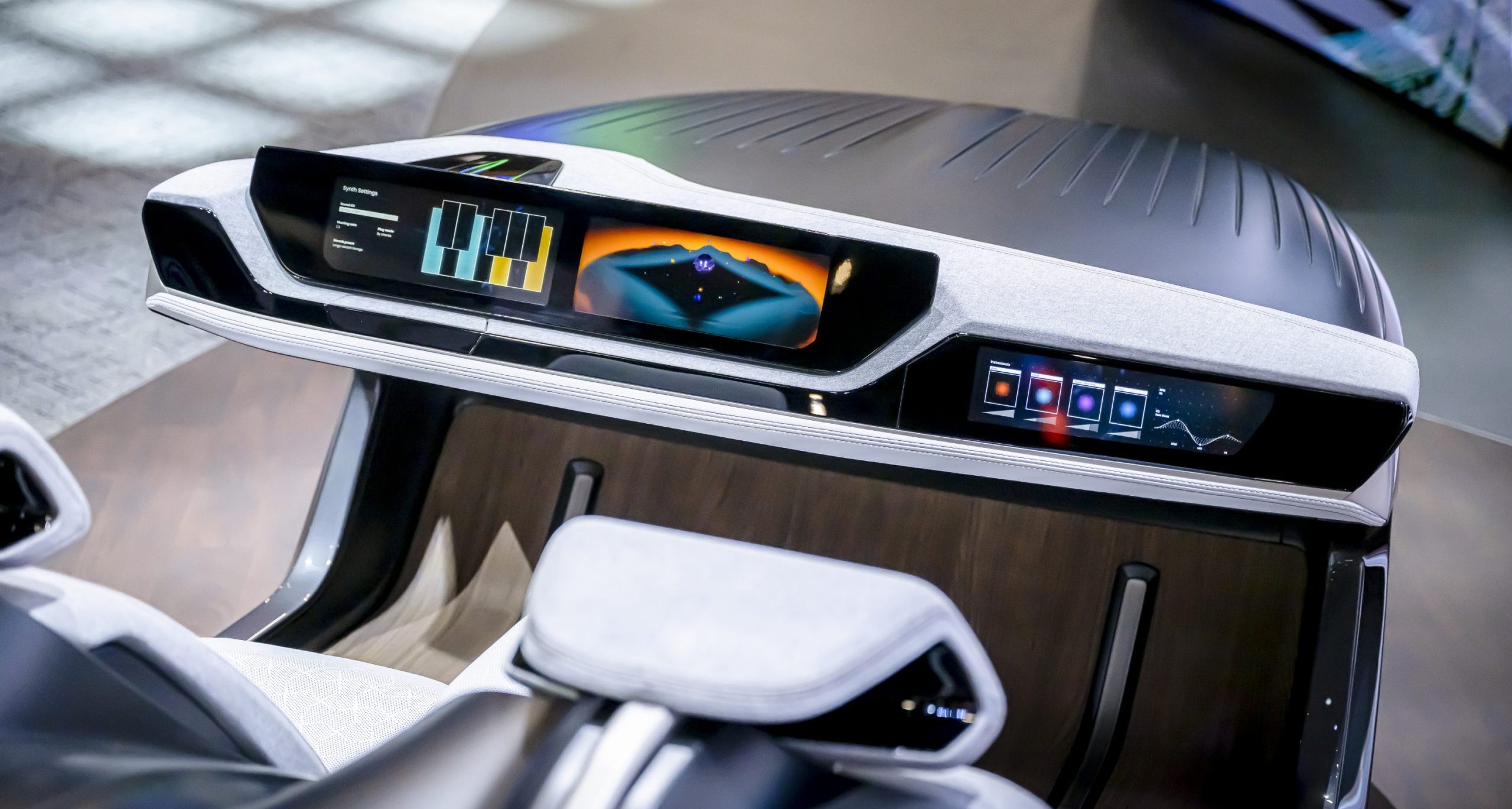 Chrysler Synthesis Cockpit
Chrysler previewed its Synthesis Cockpit concept at CES in January. The preview teased what the Stellantis brand has in mind for its first EV scheduled for 2025. Chrysler's future vehicles will embrace a smart cockpit enhanced with an AI assistant and Level 3 autonomous driving. One notable feature is a 37.2-inch infotainment screen for both front-row occupants.
Hyundai IONIQ Concept Cabin
If the full scope of Hyundai's IONIQ Concept Cabin becomes a reality, occupants of its future cars will be able to sit back and relax while they get help keeping their clothes and shoes clean (and other mundane tasks). In addition, this platform for a personalized in-car experience features seats that can swivel and recline to face passengers toward each other for improved social interaction. Meanwhile, touchscreens allow for individualized control of vehicle settings and entertainment choices. Content will be displayed on a ceiling-mounted 77-inch flexible OLED screen.
Stellantis, Panasonic, and Amazon collaboration for vehicle interior controls
Not resting on its laurels, Stellantis is engaging with Panasonic and Amazon to develop vehicle control systems. The involvement of Amazon may initially be a head-scratcher, but the idea is to integrate the company's Alexa voice assistant into the platform to handle the infotainment and climate subsystems. Panasonic brings expertise in automotive displays and software integration to the table.
Rolls Royce Vision Next 100 Concept
Although the Rolls Royce Vision Next 100 Concept (also dubbed the 103EX in the automaker's terminology) has been out since 2016, it's interesting to see if ideas for future vehicle interiors have changed in the intervening years.  That's not the case here. If anything, the folks in Goodwood (or their BMW overseers) were right on track. Of course, this concept's interior features opulent materials like wood paneling and silk upholstery. However, ideas like Eleanor the virtual assistant and a jumbo OLED infotainment screen don't differ from what other manufacturers are proposing almost a decade later.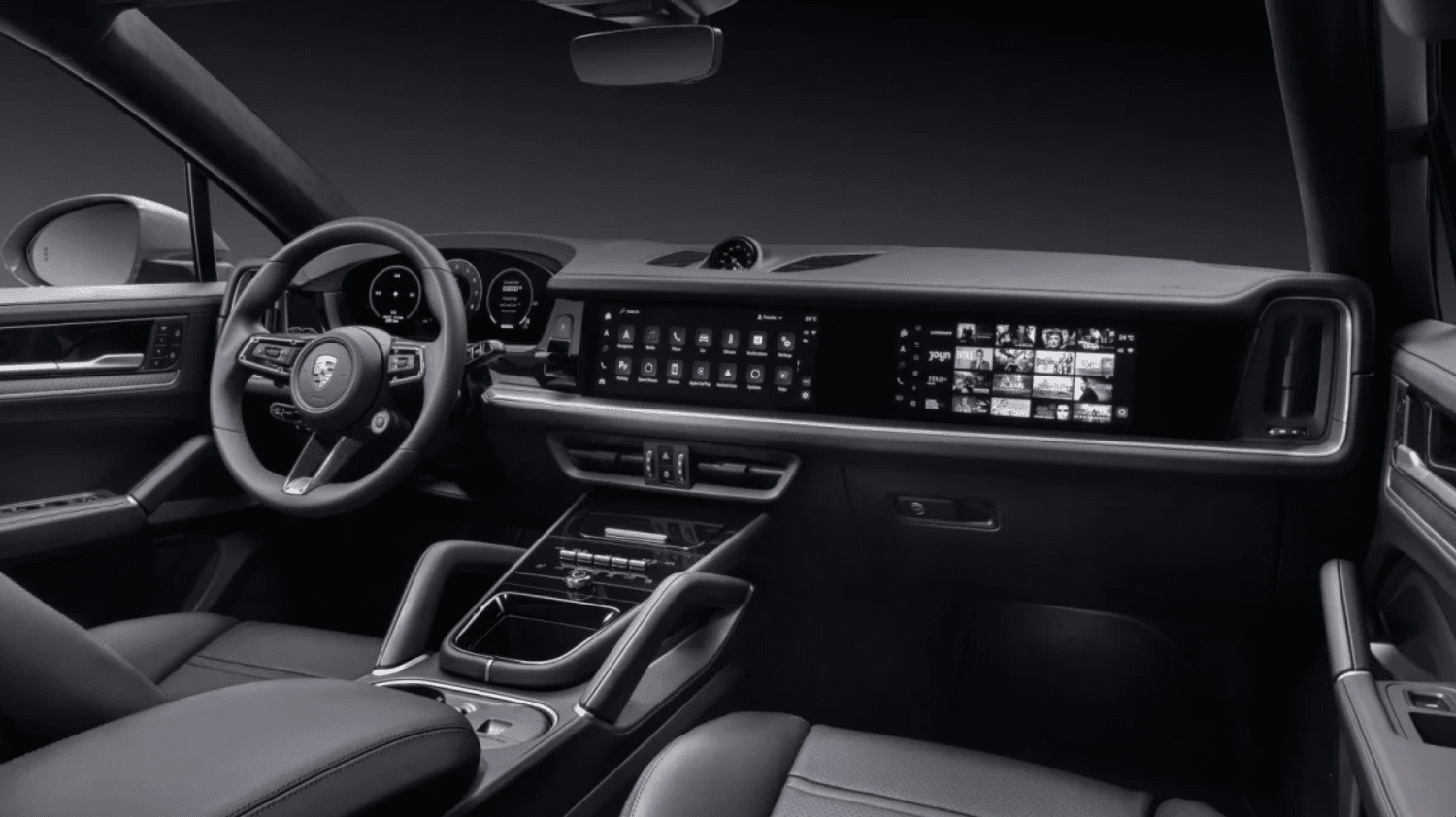 2024 Porsche Cayenne Passenger Display
While other automakers are being more conceptual about vehicle interiors, Porsche is taking a here-and-now approach with the cabin of the 2024 Cayenne. Besides a new look and some relocated controls, the dashboard now has three displays. Besides the usual driver instrumentation (including some analog gauges) and infotainment touchscreen, the front seat passenger gets their own display. The available 10.9-inch touchscreen sits above the glove box door and provides access to a video display and navigation controls. A filter prevents the driver from seeing what's on screen. The Jeep Grand Wagoneer has a similar arrangement.
Toyota Woven City
Going beyond the cabin, Toyota's Woven City project takes a broader look at future mobility by creating a community of tomorrow where people, buildings, and vehicles communicate with each other via data and sensors. Set to open in 2025 at the base of Mount Fuji in Japan, the 175-acre community will serve as a living laboratory for autonomous vehicles, artificial intelligence, smart homes, robotics, and other emerging technologies. It's doubtful that Toyota will get into the construction business, but some of what is learned from this endeavor will surely show up in future cars.