Welcome to the Kerrigan Advisors Market Update with Bridget Fitzpatrick and Ryan Kerrigan, managing director for Kerrigan Advisors. May's Kerrigan Report addresses the slight decline in sales and the lack of winner's that we have seen in May, along with some of the industry trends that dealerships are most concerned about. Watch the full interview above to find out more or find the full Kerrigan Report here.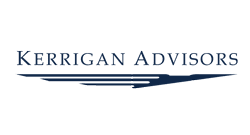 VIDEO TRANSCRIPTION: 
Bridget F.:
Hello, everyone. Welcome into the Kerrigan Advisors Market Update. Today we're joined by Ryan Kerrigan, Managing Director for Kerrigan Advisors. Thanks so much for joining us today, Ryan.
Ryan Kerrigan:
Happy to be with you, Bridget.
Bridget F.:
Can you tell us how the Kerrigan Index and S&P fared last month?

Ryan Kerrigan:
Well, the Kerrigan Index was down slightly, 2.9% in May, while the S&P was down 6.6%; so an overall down month for the markets.
Bridget F.:
What is their year-to-date performance like?
Ryan Kerrigan:
The Kerrigan Index is still up considerably, posting 18.9% gain thus far for the year. While the S&P is also up, but only 10% year-to-date, so definitely out-performance for public auto retailers.
Bridget F.:
Who are the biggest winners and losers?
Ryan Kerrigan:
Well, no winners in the month of May. Lithia and CarMax were both largely flat last month; while Sonic, Group 1, Asbury, Penske, and AutoNation all posted losses. In fact, Sonic and Group 1 were down more than 10% in May.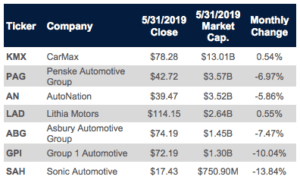 Bridget F.:
How were auto sales last month?
Ryan Kerrigan:
Sales remained largely flat, posting a slight .3% decline over May 2018. We did have a very strong weekend over Memorial Day, one of the busiest car-buying weekends of the year. But I should note, year-to-date sales are down 2.4%.
Bridget F.:
What about the SAR?
Ryan Kerrigan:
Well, SAAR surprised most industry analysts and came in at 17.4 million for the month. Predictions were in the 16.9 to 17.1 million range, so we really exceeded that.
Bridget F.:
How did the buy/sell market fair in the first quarter?
Ryan Kerrigan:
Well, transaction activity remains very high. We had 54 transactions in the first quarter. That's a 38.5% increase over the first quarter of 2018. Of the 54 total transactions, 26% were multi-dealership transactions. So contrary to some reports in the industry press, we're just not seeing a slowdown in the marketplace for transactions.
Bridget F.:
What is driving the robust transaction market?
Ryan Kerrigan:
Great question. For starters, we're seeing earnings stabilize, though they're down a little bit from 2015's peak. Average dealership earnings are roughly inline with last year, down just .7%. So dealers are reducing their variable expenses and focusing on fixed operations, driving higher margins.
Ryan Kerrigan:
We've talked with many dealers who are really focusing on their used car departments where they're seeing really good grosses this year, and we're seeing more sellers considering a sale. From a buyer's perspective, there are some very good assets coming to market in 2019.
Bridget F.:
What is causing dealers to sell?
Ryan Kerrigan:
Well, we're seeing dealers from across the age spectrum considering a sale, but they do have a few things in common. They lack a clear succession plan, they're conscious that there's been a very good, long cycle, and they're thinking long and hard about the changes that we're seeing in automotive retail.
Ryan Kerrigan:
Now that said, we're not seeing fear for the most part, but simply thoughtfulness about that business is going to change, it's going to evolve, and it takes real effort to stay apace of that change.
Bridget F.:
What changes in auto retail are dealers most concerned about?
Ryan Kerrigan:
Well, dealers are concerned about their ability to succeed in a consolidating industry, going up against bigger and bigger players. They're also alarmed by the growing dependence on OEM sales incentives to make a profit. Today, over 100% of the average dealership's profit is derived from other income, basically factory money. We know that these incentive change from quarter to quarter and even month to month, so this feels like a very precarious position for dealers.
Bridget F.:
Are valuations still high in 2019?
Ryan Kerrigan:
Yes, they are. We're still looking at average dealership value near record levels at 17.3 million, and while Blue Sky Values have declined since 2015, a little bit, real estate values have increased and more than offset those declines.
Bridget F.:
Is real estate now a dealer's most valuable asset?
Ryan Kerrigan:
Yes, it is. Real estate now comprises 65% of the average dealership's total value, and I should note after this good, long run, we may be seeing real estate prices finally peaking. In the first quarter of 2019, we observed average dealership rents decline for the first time in the last decade. Now declining rents could be an indicator for future decline in real estate valuations, and these peak real estate valuation have been a big part of driving transaction values high in recent years.
Bridget F.:
So even more sellers?
Ryan Kerrigan:
And more buyers. It takes two to tango and you need both a buyer and a seller to get a deal done. Buyers are getting a chance to take a look at some very unique assets that are coming to market and are getting comfortable that the current level of earnings as being sustainable. Given that, it's a very balanced marketplace. Where I think we could have characterized prior years as a very strong seller's market; I would call today's marketplace balanced, opportunities for buyers and opportunities for sellers.
Bridget F.:
You mentioned earnings are stabilizing. What are dealers doing to stabilize their bottom line?
Ryan Kerrigan:
Well, the first quarter reflects a shit in industry focus towards used vehicles, F&I, and fixed operation, all of which are business allianced with good, countercyclical dynamics and higher gross margins. This past quarter, average dealerships used to new ratio jumped 20% to .96, the highest level we've seen in 10 years. F&I increased 4.5% to 1185 per new vehicle retailed and fixed operations gross profit was up 2.3%. So we're diversifying away from the new car department.
Bridget F.:
In our last segment, you discussed a flight to quality. Is that still the case?
Ryan Kerrigan:
Yes, I do think that continues to be the case.
Bridget F.:
How is quality defined?
Ryan Kerrigan:
We definitely see the strongest interest in the tier 1 brands. The four factors that buyers focus on tend to be tier 1 brands, facility, location, and performance; and a good combination of these factors is important in getting a deal done. With SAAR slipping, many buyers are avoiding the franchisers that are reliant on high volume, new car gross, and stair step programs.
Bridget F.:
Speaking of quality brands, are any brands on the rise in your estimation?
Ryan Kerrigan:
Yes, we just increased Volvo's high-end Blue Sky multiple from 3.5 to 4. Volvo dealers are reporting improved profitability and increased consumer interest. Marketshare is up and buyers are showing more interest in this franchise. Sales grew 9.8% in the first quarter, including huge sales growth for their newest small SUV, the XC40. With an embedded base of loyal customers and a limited number of franchises in the US, Volvo Blue Sky is on the rise.
Bridget F.:
So altogether a good time to be in auto retail?
Ryan Kerrigan:
Most definitely. There are some warning signs, but the overall operating environment is positive and attractive. Transactions are continuing to get done. So we don't make predictions as to how long this cycle will run, but we recognize it's a great time to be in auto retail for both buyers and for sellers.
Bridget F.:
Great. Thanks so much for joining us, Ryan, and we look forward to hearing from you again next month.
Ryan Kerrigan:
Of course, Bridget. See you this summer.
Speaker 1:
Thank you for watching the official news source of the retail automotive industry.
Speaker 1:
This has been a JBF Business Media production.