After what could be considered an eventful year, Mark Scarpelli, outgoing 2017 Nada Chairman, reflects on his time and speaks optimistically about the future of the automotive retail industry.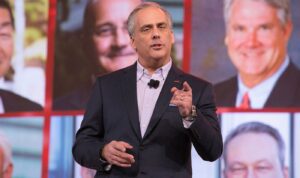 The NADA Show 2018 was the celebrated host for digital companies, automotive dealers, and auto news outlets to name a few. It also served as the setting for Scarpelli to release the reins and close the chapter to his appointed term as chairman. With all the cutting edge technology and auto sale numbers building momentum causing a surge of excitement that seems to be rippling through the dealer world, it must be hard, for Scarpelli, to break it down to a few highlights, completions, and thriving goals.
2017 included everything from hurricanes and floods, to wildfires and droughts. Scarpelli and the NADA were there to see it all. He spoke about those experiences to Jim, explaining how he had the opportunity to walk through ground zero in the wake of the Texas floods and was consumed by the devastation. It was within that trip Scarpelli had one of his proudest moments as a chairman of NADA, "to see the destruction first hand and then to know how much support NADA and over 16,000 dealerships are lending a helping hand. The foundation collected almost three million dollars, and they are still distributing funds'." He tells CBT News.
So, when asked what needs to be done this year? Scarpelli had this to say, "we are going in the right direction and we are talking about things that still matter. Obviously, that means selling cars at the best value and have some of the best products out there. But at the end of the day, we need to make sure, we are taking care of one and other… for both customer and dealer satisfaction. We need to make sure we continue to talk to each other."