General Motors is making a strong climb towards creating more electric offerings. Market experts are taking notice and believe GM could make a major financial splash if the company spins off its electric-vehicle business. Deutsche Bank analyst Emmanuel Rosner believes this could open billions of dollars in shareholder value if GM makes the move.  
Rosner believes the new company would be valued between $15 billion to $20 billion. This would add value to GM's total market cap currently standing at $43 billion.
CEO Mary Barra hasn't ruled out the idea and even welcomed the input. Barra said GM would make any changes necessary to drive shareholder value. 
"We are evaluating and always evaluate many different scenarios, so I don't have anything further to say other than, we are open to looking at and evaluate anything that we think is going to drive long-term shareholder value," Barra said during GM's 2020 Q2 earnings call. "So I would say nothing is off the table."
The speculation of a spin-off has made a positive impact on GM's stock this week as the company experienced a 3.7 percent gain in early trading Tuesday and closed up 7.7 percent at $30.01 per share. The spike was the largest for GM since May 18 and its highest close since June 8. Rosner reported that the automaker could be worth $93 a share if GM spins out its electric-vehicle business, putting the company in a better position to close the EV market gap on Tesla which is currently valued at $354.5 billion
GM plans to spend $20 billion on autonomous and electric vehicle development over the next five years, with the expectation of producing 20 new electric vehicles globally by 2023.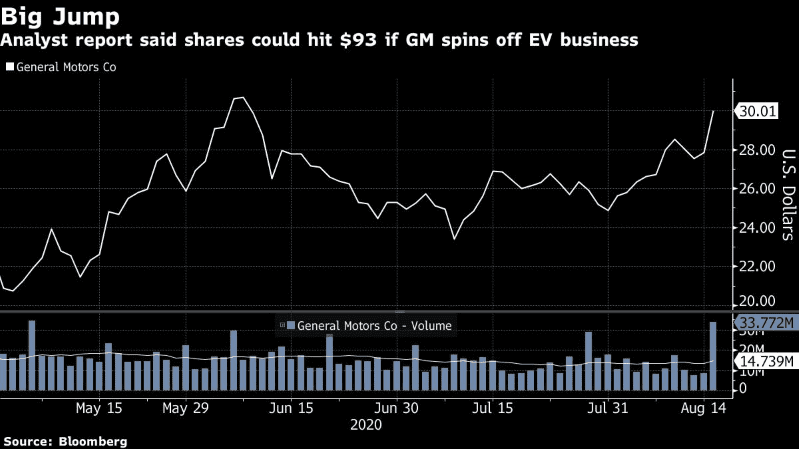 Outside of Tesla, the Chevy Bolt has been one of the top-selling EVs from the first half of 2020. GM also announced the launch of the new Cadillac Lyriq, the company's first all-electric luxury SUV. The Lyriq is expected to hit showrooms in China first to help spark GM's EV push in that market. The electric SUV will then move into U.S. production with hopes of hitting showrooms across the states in 2022.
GM is relying on its global strategy to give them momentum in the states. Over 40 percent of GM's production in China will be focused on EVs over the next five years. The company plans to ramp up efforts in the largest EV market in the world, in hopes that opportunities for EV expansion will come to the U.S. market.
Did you enjoy this article from Josh Isley? Read other articles from him here.

Be sure to follow us on Facebook and Twitter to stay up to date or catch-up on all of our podcasts on demand.
While you're here, don't forget to subscribe to our email newsletter for all the latest auto industry news from CBT News.