Ford is going all-in with electric vehicles. On Wednesday the company announced plans to sink almost $1 billion into electric and autonomous cars, with an expansion to a Michigan assembly plant and another in Cuautitlan, Mexico.
"We've taken a fresh look at the growth rates of electrified vehicles and know we need to protect additional production capacity given our accelerated plans for fully electric vehicles," said Joe Hinrichs, Ford's president, Global Operations in a press release  on March 20th. "This is good news for the future of southeast Michigan, delivering more good-paying manufacturing jobs."
As part of this fresh look, Ford will be investing over $850 million in their Flat Rock plant over the next four years, which will include funding for the next generation Mustang. Ford will also be completing their first autonomous vehicle at a new southeast Michigan manufacturing center. The plan is to start production on autonomous vehicles for commercial services in 2021.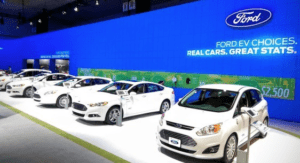 "As we ramp up AV production, this plan allows us to adjust our investment spending to accommodate the pace of growth of this exciting new technology," said Hinrichs regarding the plans, "This new plan combines our core strength in mass manufacturing with the agility and leanness we've shown with our modification centers for specialty manufacturing."
Also part of the announcement was the decision to build the next generation North American Transit Connect commercial and passenger vans in Mexico, also in 2021. This move is in keeping with the company's commitment to USMCA, the new trade agreement between the United States, Canada, and Mexico, as it favors North American-based production over importation.
Overall, Ford hopes that this new direction will help increase its global reach. It follows them ending production of heavy trucks in Brazil and a restructuring of their European and Chinese operations. "We continue driving to find new and better ways to boost our fitness as a company and one of the world's leading manufacturers," Hinrichs said. "Working together with our employees, union partners and government officials around the world, we are continuing to unlock new solutions to deliver world-class vehicles people want and value even more efficiently."
These new investments are part of an industry-wide interest in electric and autonomous vehicles. There has been a steady stream of similar redirection and restructuring announcements since the end of 2018, with the most dramatic of which was issued by GM who drew sharp criticism from unions and government officials alike when they rolled out their plan to close unprofitable plants and focus on more popular models moving forward.
Ford, on the other hand, seems to be enjoying a more positive reaction to their announcement. After the company published their plans, President Trump tweeted, "Great news from @Ford! They are investing nearly $1 BILLION in Flat Rock, Michigan for auto production on top of a $1 BILLION investment last month in a facility outside of Chicago. Companies are pouring back into the United States – they want to be where the action is!"