Welcome to another edition of The Friday 5 with Steve Greenfield, Founder and CEO of Automotive Ventures, an auto technology advisory firm that helps entrepreneurs raise money and maximize the value of their companies.
Let's start off with a reality check on just how good the market has been for dealers over the past 6 months. 
Despite a pandemic that shut down some stores' showrooms for most of last spring, U.S. dealerships on average posted their highest profits ever in 2020.
According to NADA, the average U.S. dealership recorded net pre-tax profit of $2.1 million dollars last year, a 48 percent increase from the prior year. 
The post-tax earnings of the average dealer increased more than 9 times to $590 thousand dollars.
Amidst a global pandemic, it was a great time to be in automotive retail!
Big news in the automotive advertising space this week as Force Marketing acquired GSM, a three-decade-old industry leader in the same category. The deal brings the total number of dealerships served to more than 1,500 nationwide.
The acquisition of GSM's business adds fixed ops marketing capabilities for parts and service departments to Force Marketing's legacy portfolio of variable ops solutions for dealership vehicle sales.
Congratulations to both the Force and GSM teams.
ChargeLab, which has raised $4.3 million in seed financing led by Construct Capital and Root Ventures, is looking to be the software provider for EV chargers built by everyone else.
ChargeLab already has an agreement with ABB to be their default software provider as they go to market. The big industrial manufacturer is getting ready to launch their next charging product in North America.
As companies like REEF, Metropolis and ParkMyFleet revamp garages and parking lots to service the next generation of vehicles, ChargeLab thinks their software can power their EV charging services as they begin to roll out that functionality across the lots they own.
ChargeLab eventually wants to integrate with the back end of companies like ChargePoint and Electrify America to make the charging process as efficient for everyone.
CDK Global has completed the sale of its international business to private equity firm Francisco Partners.
The deal, valued at $1.45 billion, closed Monday but was announced last November.
The company has been renamed "Keyloop".
This puts over a billion dollars on CDK Global's balance sheet, so expect them to make some big acquisitions this year, possibly coming soon.
Fluid Truck announced a $63 million Series A funding led by Bison Capital, with participation by Sumitomo Corporation of Americas, Fluid Vehicle Owners and Ingka Investments, part of the Ingka Group which operated 378 IKEA furniture stores in 31 countries.
Fluid Truck provides businesses the ability to rent from its fleet of trucks, vans and SUVs. Late last year the company added 600 Lightning eMotors Electric vehicles to its fleet consisting of electrified Ford E-450 Class 4 trucks and Lightning Electric HINO 268 Class 6 trucks.
The long-awaited ACV Auctions' S-1 filing for their IPO is finally available online, which means we will see them trade as a public company within weeks.
Since first going live back in 2015, ACV has expanded from their first territory in Buffalo, NY to 125 territories as of the end of last year. The gross value of vehicles sold has increased from $23 million to $3.3 billion over that time period, and their dealer count has increased from 5k to over 16k.
For 2020 ACV sold 391k Units, an increase of 62% from the same period the previous year.
For 2020 ACV generated total revenue of $208 million dollars, an increase of 95.0% from the prior year.
It'll be great to see ACV go public, and their valuation could approach $3 billion dollars.
Autonomous trucking company TuSimple, which gained momentum with hundreds of millions of dollars in financing from Chinese investors and U.S. freight-hauling companies, has filed paperwork to go public and plans to join the U.S. stock market as early as next month.
TuSimple raised $215 million dollars in a 2019 financing round that valued it at $1.2 billion. It has since raised more capital but declined to share its latest valuation.
Rollick, which operates the GoRollick Powersports, RV, and Boat Buying Program Marketplace, has closed $8.5 million dollars in funding.
The new investment comes from strategic investors Sandbox Insurtech Ventures and TechNexus Venture Collaborative, as well as Dallas Venture Capital, Congress Avenue Ventures, and London Technology Club.
LiveOak Venture Partners, Silverton Partners, Autotech Ventures, ManchesterStory, Anthem Venture Partners, and Capital Factory continued their support in this round of financing.
The current round brings the total capital invested in the company to $22 million dollars.
Congratulations to Bernie Brenner and the Rollick team down in Austin!
Companies to Watch
Every week we highlight interesting companies in the automotive technology space to keep an eye on. If you read my monthly industry intel report, I showcase a few companies each month, and we take the opportunity here on the Friday Five to share some of those companies each week with you.
Today, we'll look at two companies to watch, Fixed Ops Digital and AutoAp.
Our first company to watch, Fixed Ops Digital, founded in 2016, and located in Denver, Colorado.
Fixed Ops Digital is a digital marketing agency primarily working in automotive fixed ops marketing. Their goal is to help bring advanced digital marketing tactics to automotive service, parts, accessories and collision repair marketing.
Most OEM service marketing programs are vanilla and inefficient, often recycling the same customers in your service drive. This is why the OEMs are so focused on creating more conquest repair orders.
Fixed Ops Digital's "Dealer Wallet" product Gives Your Customers a Digital First Experience.
Dealer Wallet is the automotive industry's mobile wallet marketing solution. It allows a franchise car dealership to convert service special coupons on their website into downloadable Apple Pay and Google Pay mobile wallet offers.
If you're looking to drive more fixed operations business, check out Fixed Ops Digital. 
Our second company to watch this week is AutoAp, founded in 2012 and located in Portland, Oregon.
Auto retailers today face heightened safety recall liability, compliance requirements and management overhead costs as a result of the error-prone safety recall information they are forced to use from NHTSA and off-brand OEMs. 
To address this, AutoAp, the industry's #1 source for accurate and timely safety recall discovery; reporting;  on-demand status lookup and recall management software, has developed advanced data collection, cleansing and status verification processes to correct errors and out of sync safety recall information.
With safety recall management solutions that address before, during and after-sale, with informed acquisition; daily inventory monitoring; consumer disclosure reports; recall alerting; and post-sale customer vehicle recall discovery, franchised car dealers can make better business decisions, reduce their liability, streamline compliance and generate net-new warranty reimbursement revenue.
Check out AutoAp for more information.
So that's your weekly Friday 5, a quick wrap-up of the big deals in automotive technology over the past week.
It's an exciting time to be in the automotive space, with a ton of deals going on. Make sure you stay tuned in each week to stay up to date on the auto industry's technology M&A activity. I'll keep my fingers on the pulse of deals being done  — so I can share updates with you.
If you're an early-stage automotive technology entrepreneur looking to raise money, or an entrepreneur who wants to chat about the best timing and process to sell your company to achieve the best outcome, I'd love to discuss it with you at steve@automotive.ventures.
---
Did you miss enjoy this week's episode of The Friday 5? Please share your thoughts, comments, or questions regarding this topic at newsroom@cbtnews.com.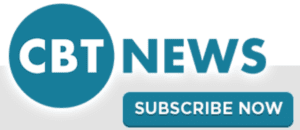 Be sure to follow us on Facebook and Twitter to stay up to date or catch-up on all of our podcasts on demand.
While you're here, don't forget to subscribe to our email newsletter for all the latest auto industry news from CBT News.