In the latest merger news, Fiat Chrysler Automobiles (FCA) and France's PSA Group recently announced that they have agreed to a 50/50 merger deal that will aim to save money and boost profits while taking on new technologies. The agreement comes after a failed $35 billion merger between FCA and France-based Renault earlier this year that did not take place because of FCA's restlessness and unwillingness to fulfill Renault's postponement requests. An October 30 press release from PSA noted that there had been "ongoing discussions aiming at creating one of the world's leading automotive Groups."
A name for the new company has not been announced.
Canadian Metalworking reported that the merger will "save the automakers $4 billion, mainly by sharing R&D costs on vehicle platforms" and that "80 percent of the synergies would be achieved after four years." According to Colin Beresford of Car and Driver, the new company would be worth around $46 billion.
The Detroit Free Press reported that the company would aim for combined revenues of $189.06 billion.
Another strong reason for the newly formed relationship is that PSA has been looking to return to the U.S. market for a few years now, and the merger would help PSA accomplish that. PSA hopes to be selling Peugeot cars and other models in the U.S. by 2026 after the company left the U.S. market in the early 1990's. FCA could also benefit, seeing as FCA may become more of a presence in France, the UK, and Germany, which are PSA's biggest markets.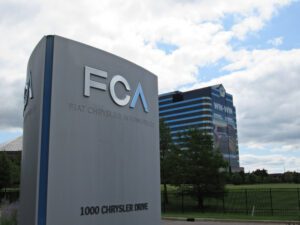 The merger would have potential to make PSA's re-entry into the U.S. easier and it could happen more towards 2023, sooner than expected. PSA has reportedly already begun manufacturing vehicles that will meet U.S. requirements and standards. Automakers worldwide are also facing pressure regarding fuel consumption and emissions, and it is expected that PSA and FCA will be able to tackle the issues more sufficiently together rather than alone.
FCA could also benefit greatly from the merger in terms of the vehicles it creates. PSA has reliable and attractive technologies such as advanced front-wheel-drive platforms and electrified drivetrains. Jack Nerad of Forbes reported that the companies announced that electric vehicles and autonomous technology are "of particular interest for the new entity" and that "co-development and platform-sharing might make the two brands valuable standalone assets."
Although the companies have stated European factories will not be shut down as a result of the merger, Edward Taylor of Automotive News Europe reported that "this promise is likely to come under heavy strain as the combined group would have spare production capacity of almost 6 million vehicles in a slowing autos market."
The new company's board will be made up of 11 individuals. Specifics have not been finalized, but discussions are ongoing and a resolution is expected within the next few weeks. Several executives from both FCA and PSA will retain positions in the new company, including PSA CEO Carlos Tavares and FCA Chairman John Elkann.
Assuming the merger does become finalized at the end of 2019, it will create the fourth largest auto company in the world and is expected to manufacture around 8.7 million vehicles per year.