Last week, President Donald Trump fulfilled his promise of raising tariffs on China from 10% to 25% on about $200 billion of Chinese goods. Trump has made it clear that he is a "tariff man" and thinks they are a great tool to use in the fight for a stronger economy and better trade deals. China, in turn, was not pleased with the move and announced its own tariff increase on $60 billion of American goods. Starting on June 1, China has plans on raising duties on many items to 25%, matching the Trump administration's increases.
Speaking on the topic of trade, China's ministry announced that the country's upcoming tariff imposition on the U.S. "is in response to the US unilateralism and trade protectionism."
On May 13, Keith Bradsher of The New York Times reported that China's retaliation would include tariffs on a wide variety of goods including clothing, alcohol, and natural gas. Of course, vehicles, auto parts, aluminum, and steel would likely be included. China initially stated the increase would happen immediately, but later set the start date to June 1st. This, to some experts, is viewed as a sign that China may still be interested in coming up with an amicable agreement before then.
Others aren't so sure Trump is willing to make a deal. Alex Ward of Vox reported that Trump has also hinted that the U.S. could put tariffs on every single Chinese good, meaning that free trade between the two countries would be drastically minimized, which could result in "stunting the global economy and increasing prices for consumers and importers in the US."
Global stocks have already dropped since the tariff dispute with China heated up this week, with Japan's Nikkei Index falling 0.7%, European stocks falling around 1%, and the Dow Jones falling almost 700 points.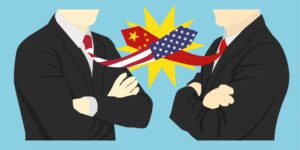 The Trump administration now has until Saturday to reach a decision on how to proceed with the "trade war," which includes auto tariffs. Many inside sources have allegedly said the administration has plans to delay the plan for six months instead of putting a plan into place right now. Commerce Secretary Wilbur Ross did not confirm the delay, but stated that Trump could decide to "impose a various amount" on "all or some of the countries" whenever a decision is made. Regarding China, according to Ross, the tariffs will be necessary if there is not a "structural change" in the Chinese economy.
The exact reasons for the possible delay are unknown, but a May 15 Los Angeles Times report noted there is speculation that Trump may be trying to "avoid blowing up negotiations with the European Union and Japan and further antagonize allies as he ramps up his trade war with China." However, if China does truly increase tariffs on the U.S. on June 1 as planned, retaliation could be swift.
Most of the auto industry agrees it would be best if Trump would just choose to not impose higher (or new) tariffs and completely abandon the issue. Instead, if the administration chooses to delay the decision for up to six months, it would lead to much uncertainty which, according to Car and Driver, "doesn't mix well" with the long-term planning of auto manufacturing and sales.
Saturday's decision will affect not only China, but other countries including the European Union and Japan, who have also been tangled up in trade negotiations for the past two years.
The United States–Mexico–Canada Agreement (USMCA) was agreed to and signed in November of 2018, but steel and aluminum tariffs still remain. The Washington Examiner reported that Mexico hopes these tariffs will be lifted, and U.S. Senate Finance Committee Chairman Chuck Grassley put it even more bluntly and said the USMCA is "dead" if they aren't.
With regard to China, despite fear that the country's tariff increase will hurt the U.S., Trump has always maintained that he is confident the tariffs imposed on China are beneficial to the U.S., also adding that the U.S. economy is "fantastic" and China's is "not so good." Overall, there is no doubt that Saturday's decision will be crucial to the global economy.