It's a steamy Friday afternoon in mid-September and Chris Saraceno has just returned from giving a presentation to over 600 students and faculty members at Holy Trinity School in Melbourne, Florida.
The focus of his speech was about surrounding yourself with the right people and based on the pillars of his best-selling book, "The Theory of 5."
Because it's the last day of the working week and in the drowsy afternoon slump of the 2:30 p.m. hour, you might expect for Saraceno to sound tired, drained or disconnected.
Advertising Partner

Instead, he's energetic, engaging and eager to talk about his passion for the retail automotive business and what he continues to see as the industry's number one driver: People.
And it's people that Saraceno credits as part of his rise in the automotive industry where he now serves as Vice President and Partner of Kelly Auto Group, a best-selling author and founder of co-Founder of www.dealerElite.com.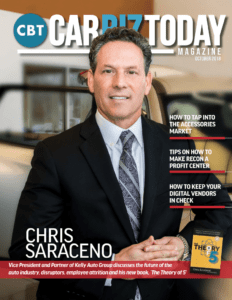 Weightlifting and Wheels
If you're seeking insight into the retail automotive industry from a laid-back expert full of riddles and enigmas, don't contact Saraceno.
Saraceno is a driven, multi-talented and straightforward individual with not only extensive experience in the retail automotive industry but also a sought-after motivational speaker and author.
Bonus? He doesn't believe in harboring his secrets to success but is a proponent of sharing knowledge.
If you skim the highlights of Saraceno's biography, you might get the sense that he was always driven to achieve success in the auto dealership industry. Throughout the years, he's worked in just about every role including sales, F&I and general sales management.
But, Saraceno never harbored ambitions to enter the retail automotive business.
In 1984, armed with a degree in marketing and communications from Kutztown University, Saraceno had resolved to take a job in Philadelphia. While the position was good, the drive wasn't. Saraceno lived roughly an hour north in Allentown, Penn. and was dreading the commute. While working out in the local gym, he voiced his concern to friend Robert Plarr.
That conversation was overheard by an employee at a local dealership Steve Munyan and Saraceno's life was changed forever.
"He said, 'Chris, you know what you're really good at is people. You're warm and friendly. You should come work in the auto sales business," Saraceno recalls.
A few days later, Saraceno became a salesperson at Ruhe Oldsmobile. There he began learning the ropes of the business, including one of the most critical lessons he grasped about achieving success in the industry: How to talk to potential customers.
"They told me to talk to everybody like they were a friend or a relative," Saraceno said.
Into the Fast Lane
A quick-study with a strong work ethic, Saraceno began experiencing success rather quickly at Ruhe Automobile. His achievements drew the attention of the nearby The Kelly Auto Group where Saraceno took a position.
At Kelly, he began a meteoric journey, rising from sales to F&I manager to sales manager, general sales manager and within 18 months of first stepping foot on the lot at Kelly, he was promoted to general manager.
His journey of success continued and in 1997 he was named Vice President at Kelly Auto and 11 years later he began buying into dealerships.
Today, he serves as Vice President/Partner of Kelly Auto which has several stores in the Pennsylvania and Florida markets. In his role, he focuses on a variety of responsibilities including process implementation, profitability, inventory control and budgeting and forecasting. He also is a member of AutoTrader's Dealer Advisory Board and DealerRater's Dealer Advisory Board and is co-Founder of www.dealerElite.com and a partner in AutoCon, Automotive Media Partners, and ADM.
But, don't expect to find Saraceno devoting all his time to sitting behind a  desk resting on his laurels, issuing directives and opinions and typing out memos. He's still very hands-on and involved in hiring, recruiting, creating training curriculum and motivating.
Quite a climb up the ladder for the college graduate who didn't want to make the drive to Philadelphia every day.
Of Talent and Turnover
Though new challenges such as the Internet and auto subscription services might get the press as this year's hottest disruptors, when we spoke to Saraceno he said the biggest challenge in today's retail auto industry, is the same one that has plagued managers for decades: Finding the right people. According to a 2016 NADA report, auto dealership turnover rate hovers around 39.6 percent.
"You can have the best product, but you have to get the right people. When you get the right people in place it's like a light switch going off," he said.
But how and, more importantly, where do you find the right people?
Everywhere, according to Saraceno. There are the usual suspects including job fairs, colleges and using marketing. But Saraceno also uses a recruiting services www.hirethewinners.com that longtime friend Munyan owns. Saraceno also believes in the adage that potential employees are everywhere.
He emphasizes that many of the top people he's discovered through the years hail from non-traditional backgrounds in sales.
"When I look at our top ten people, eight out of ten of them had never sold a car," he said. "If we take the time and teach them our way and coach and mentor, we don't have to get rid of many bad habits."
Saraceno reels off several successful salespeople who came from backgrounds outside of the dealership industry. One salesperson he recently hired had worked as a general manager in fast food for several years. Saraceno said he selected the man because he had traits he wanted in a salesperson such as a strong work ethic and dedication.
Saraceno also seeks those who have a background of success, such as athletes or people who have excelled in other fields.
"Past performance in most cases does equal future success," he said.
Once you get them, how do you keep them from going down the street to the competition or becoming stagnant?
You need to explain to employees what a dynamic industry the car dealership business is and how much potential exists for upward mobility.
"Most people, especially the youth, don't understand how the industry is such a great industry. People don't realize if you join auto retail, not only can you grow, but you can be a GM or a partner in a company," he said. "People don't realize the opportunity in this business. Our job is to find those people and let them know what a great opportunity it is."
Saraceno says keys to employee retention include such tenants as having a competitive pay plan in place, ensuring that managers are involved in the orientation sessions and possessing a true commitment to seeing people succeed.
Coach Chris and The Theory of Five
Ask Saraceno about his primary job duties now and he doesn't reel off three syllable words, obtuse theories on economics or trendy acronyms.
He said, above all, he's a coach.
He enjoys focusing on people. On motivating them. On seeing them grow professionally and personally.
With his focus on people, it should not come as a surprise that his book, "The Theory of Five" deals with the impact of the people you surround yourself with the right people.
"Published in May 2018, the book addresses how surrounding yourself with the right people is critical to success." That success is not confined to the financial arena, but also includes areas such as health and fitness and spirituality.
The title of the book is derived from the old saying that we become the average of the five people closest to us, not only in income but also in relationships, health, attitude, ambition, spirituality and goals. In addition to incorporating his own thoughts, the book features interviews and quotes from thought leaders such as Dave Anderson, Dale Pollak and Susan Givens.
But, before he wrote the book, it took a series of several family tragedies to push him to put his theories and thoughts into print.
"In my mind, this book is a gift to my family that my children and my great grandchildren would say this is how dad thought about life," he said.
The book has gone beyond just family reading it, though.
It's landed as a Number One Amazon bestseller in categories including  "Personal Success and Spirituality," "Communication in Business" and "Religious Leadership"
"Surrounding yourself with the right circle of people can make all the difference in life," Saraceno said. "I can say this because I've witnessed the transformation both in my own life and in the lives of those around me who have taken this idea to heart. This book has been a labor of love, and I know it can unlock the potential of anyone who reads it and puts it into action."
You can purchase the book at www.theoryof5.com and on amazon.com.
What's next for Kelly Auto Group?
Kelly has several stores located in the Pennsylvania and Florida markets. Saraceno said within the last year, the company has proposed buying half a dozen dealerships. While no deals are finalized as of press time, Saraceno did say the group is looking to grow in its current markets.
Saraceno lives in Satellite Beach, Fla. with his wife, Lisa. He has two daughters, two step-children and five grandchildren.
You can also check out more articles from this month's issue of Car Biz Today Magazine here.