Corporations are already taking action to mitigate potential negative effects of the tit-for-tat tariffs being imposed globally, including automakers in China. This comes after the United States imposed 25% duties on $34 billion worth of Chinese goods, to which China responded by slapping a 40% levy on American-made automobiles and causing automakers, including Tesla, to significantly increase prices. President Donald Trump has made fair trade one of his top priorities throughout his term so far, and the uncertainty of the outcome of the tariff impositions has caused some corporations to panic.
Tesla is one of the initial automakers to announce rising prices due to trade tensions. The prices of Model X and Model S vehicles have increased by more than $20,000 in China. This comes after Tesla had reduced the price of a Model X in May prior to the new tariffs. Frank Schwope of Germany's Norddeutsche Landesbank was quoted as saying, "I can't imagine that Tesla can be in the black before 2020." He also indicated Tesla had already reduced employment by 9%. However, Nathan Bomey of USA Today reported that after Tesla CEO Elon Musk visited China this week, the corporation has announced that it is planning the construction of a new factory located in Shanghai. This factory is projected to make around 500,000 electric vehicles per year within five years. Of course, it takes time to build a brand new automobile plant; therefore, this announcement will not do Tesla or China any good in regard to the current tariff situation.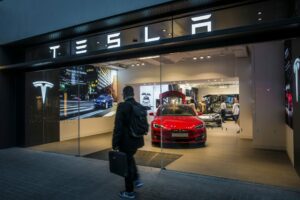 Along the same lines as Tesla's announcement, BMW AG has also announced it will be "increasing capacity at two auto manufacturing plants in China," according to Oliver Sachgau of Automotive News. The deal, made between BMW and China's Brilliance Automotive Group Holdings, comes with a target of manufacturing 520,000 vehicles per year. This is quite an uptick from BMW's 2017 goal of manufacturing 450,000 vehicles. The CEO of BMW, Harald Krueger, released a statement noting that BMW's agreement "sets a long-term framework for our future in China." He also noted that BMW is invested in and committed to producing electric vehicles in China. Bloomberg News has also reported that Germany's BMW and China's Great Wall Motor Co. have reached an agreement on a 50-50 joint venture to produce electric cars in a new facility in Jiangsu Province.
Meanwhile, the European Union is considering making some sort of negotiation deal when Jean-Claude Juncker, the European Commission President, visits Washington D.C. later in July. A July 5, 2018 Politico article reported that the EU might offer the elimination of tariffs on automobiles in an attempt to convince Trump to stop the threats and continuous tariff impositions.  This, however, "would have to cover about 90 percent of global car exports to meet World Trade Organization standards," which means numerous countries who the U.S. is currently experiencing trade frictions with (Canada, Mexico, the EU, etc.) would have to agree to the deal, which likely includes China.
Still, Christopher Scott of Asia Times reported that Li Keqiang, the Premier of the State Council of the People's Republic of China, has announced that China is "against unilateralism" and "in favor of free trade," so it seems that other countries may be open to making a deal; however, nobody knows how Trump might respond.