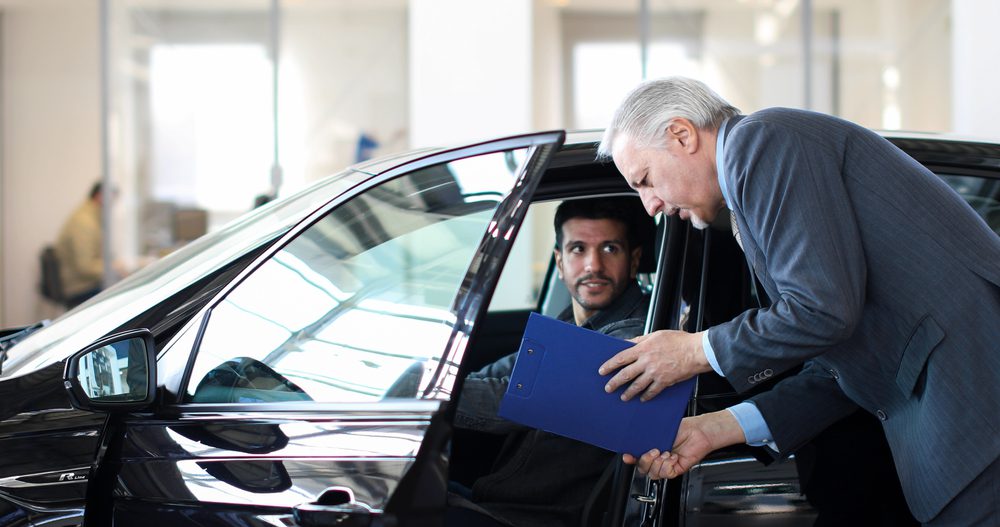 We live in what people are calling The Age of the Consumer and for the F&I department, it means a fresh focus on providing an experience that is markedly different than what consumers are used to. A more personalized experience, one that is more enjoyable than it is now.
Remember…most car buyers would rather sit in the middle seat of a trans-Atlantic flight or get a root canal with no anesthesia than sit through the F&I process when buying a car. Misery…it's a real thing.
How can F&I embrace this shift to a more personalized experience? How can the customer feel like they are valued by the dealership and not looked at as the buttered-up turkey on the Thanksgiving table with everyone seeing big fat dollar signs?
Let's take a look at 4 ways your F&I department can get out in front of this 'consumer-first' movement and offer a truly next-generation experience that makes life easier for the customer AND F&I staff…
It Starts Online –

Most of us check a company's website before we ever commit to buying a product or signing up for a service. We do our research now because…well, we can do that easier now than ever before. The Internet gives us everything in an instant and answers virtually every question we have. So, it's important to make sure your dealership website offers the same level of education for F&I than it does for the cars themselves.

A Cox Automotive study from a few years ago found that up to 2/3rds of F&I consumers were more likely to purchase F&I products if they are able to learn about them on their own time.

Have the F&I page be dynamic and filled with easy to digest descriptions of popular products like extended warranties, GAP insurance (for those states where it's sold), credit life, tire & wheel, etc. Give them the education they want before they come into the store and you are more likely to sell them, especially your Millennial buyers.

The earlier you bring that knowledge and education in a transparent way; you will find it take a great deal of pressure off both the buyer and the F&I manager. It also builds interest and trust that products are presented upfront and not relegated to the typical fast-talking salesy presentation in the business office.
Don't Make Them Wait –

Yes, this can be challenging as there is a process to buying a car and a great deal of paperwork that needs to be completed. But there are simple strategies your store can employ to at the very least reduce those wait times between the sales floor and the F&I office.

Consider a personalized interview form or set of standard questions that the salepeople can ask to help F&I tailor their approach better and reduce the need for too much back-and-forth once they walk in. If your F&I managers know ahead of time things like driving preferences and commute times, financial safeguards in case of employment interruption, or estimated miles driven per year, then the RIGHT products can be loaded into the menu presentation right away. The more you know about the buyers BEFORE they come into the office, the better. Give them the presentation they feel was built just for them.
Let Them Get to Know You –

It's been said a lot these days about how the world's most successful companies and brands do the best at letting customers get to know them. You see pictures of the employees on their website, posts and pictures of them doing fun things on Instagram or participating in Facebook 'lives' where they answer questions from customers.

Do your potential customers know your F&I staff? Would they know them if they saw them in Costco or at the local bar watching the game?

Consumers want to feel a connection to the businesses they buy from so why not give them a window into the amazing F&I managers you have? Let your customers get to know them…fun bios on the website, weekly 'lives' on Facebook where they can answer questions about products and services or hosting the live chat on the website. Personalize your customer's experience by simply being personal.
Stay in Touch –

In my years in F&I, reaching out to the customers after I helped deliver the car was not encouraged at all. In fact, it was openly discouraged. The theory was that once they left my office, any communication may give them second thoughts about the product they bought or the rate they signed for. If I were in F&I now? I'd have no hesitation in reaching out.

If you miss a chance at selling an extended warranty, there is no reason not to reach out within a week or so after thanking them for their business and asking if they had thought about adding a policy. Why not? Maybe the simple act of calling or emailing them with gratitude could soften them to reconsider a product they were not sure on before.

And even if they bought it ALL from you, reach out anyway to say thank you and that you are here for any questions they may have. Again, it makes the F&I staff seem human at a time when they still suffer from the generations-long reputation of being sleazy and pushy. A personal touch that they are not expecting can go a long way to referral business and a strong CSI for F&I.
Don't be afraid to give your customers what they want, a personal experience tailored for them. They are not just another 'deal'…they are people about to make the second biggest purchase in their lives.