May is just around the corner and that means that Manheim is approaching their pilot run with a new mobile application Manheim Express before going public come late summer.
CBT Automotive News met with Derek Hansen, Vice President of Digital Inventory Solutions with Manheim, to learn more about the company's new app and what the industry could expect from it.
At The NADA Show this year Manheim Showcased a brand-new app called Manheim Express. "Manheim Express is an app that allows dealers to get the power of the Manheim marketplace, wherever they choose, from their lot." Hansen explains, "It allows them to quickly and easily list cars in the Manheim marketplace".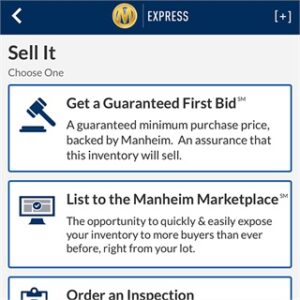 Included in this app is a feature called they call Guaranteed First Bid. During this process, a minimum floor price is set and if the vehicle does not sell for the minimum floor price or greater after being listed in the Manheim Marketplace for 2 business days, Manheim will buy the vehicle at the GFB price. This gives the dealers comfort in knowing that they can have a check in hand within two days and that their inventory is large and active.
Manheim created this app on behalf of dealers for dealers. They answered the need to provide a tool that allows dealers to access their inventory sooner so they may scan, present, close the transaction and then seamlessly flow the car into the wholesale marketplace effortlessly from anywhere.
This App is set to make its pilot debut in May across the state of Ohio, City of Pittsburg and Southern California before hitting the market nationwide in July of 2018.