Once a dealership staple, the 0% interest auto loan is quickly becoming a thing of the past. Zero-interest was an alluring auto boom incentive. In 2010, roughly 22% of US car sales took advantage of a no interest loan.
However, with the changes in the economy, dealerships have quietly been abandoning the 0% option, raising interest rates by small increments. According to Edmunds, the percentage of these loans has decreased by 7.2% between 2017 and 2018, from 14.6% to just 7.4%. Rising interest rates from banks appear to be the main culprit, as they cause manufacturers to be less inclined to cut buyers' rates when they have a hefty tab to pick up.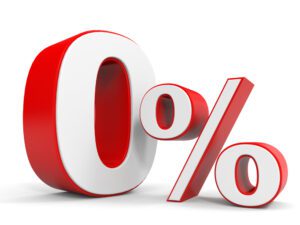 That said, this holiday season 0% interest is seeing a resurgence. Though Chevy, Honda, and Mazda are keeping with the trend, three other major auto companies, Ford, Nissan, and General Motors are all putting the attractive incentive back on the menu, at least temporarily. Buyers shopping a 2018 Ford Focus, Chevrolet Silverado, 2018 Hyundai Ioniq and many others are in luck, as the companies are hoping to use zero-interest loans to move models off lots and reinforce the year's sales numbers.
One reason automotive companies feel emboldened to offer 0% loans is due to recent upticks in the economy. Consumer confidence is high, as are wages, setting this holiday season up to be an unprecedented one when it comes to shopping. Deloitte projects a hike between 5 and 5.6% in holiday spending from last year. In a press release, Rod Sides, the vice chairman of Deloitte LLP and US retail and distribution sector leader, affirmed that "Consumer sentiment and spending indicators provide a healthy outlook for retailers across channels."
This creates the perfect environment for auto companies to slip a few no-interest loan deals into the mix through the end of the year. Some of these loans will be good for six years, like seventy-two-month loan free offer that comes attached to several Chevrolet models, such as the 2019 Equinox, 2018 Tahoe, and 2018 Volt. Nissan's website is offering five year 0% loans on a whole range of vehicles, including cars, electric cars, crossovers and SUVs and trucks.
Though it's only going to last through the end of the year, bringing back the no-interest strategy could be a boon during a time when consumers have become wary of buying new cars, often because of fear of sizeable interest-induced debt.. The incentive could draw younger buyers who have held off on getting their first car, shoppers looking to upgrade to a newer, safer vehicle, or those looking to make a holiday gift purchase. As dealers, seek to highlight these offers if you have applicable stock on your lot or consider offering your own limited time zero percent deals. With these deals drying up in general, this may be a way to stand out from the competition as the year comes to a close.