In the six years since the multimedia platform CBT (Car Biz Today) was launched by Jim and Bridget Fitzpatrick, the American car industry has undergone far reaching change and faced an array of new challenges.
During this time, CBT has championed the automobile dealer community by providing important and timely news coupled with a host of tools to enable them to not only understand the forces and trends in their business, but also profit from them.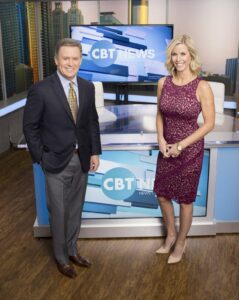 "Auto dealers needed their own voice and their own network. While there were well-known national publications out there available to dealers, they focused most of their energy on what was happening in the OEM space," said co-founder and CEO Jim Fitzpatrick.
Advertising Partner

The company's vision was to provide a regular and trusted source of news in a convenient to access and easy to digest package. All programming is geared toward the retail automotive industry – a segment of the market that lacked dedicated media.
The Fitzpatricks brought to the enterprise a long career in automotive marketing, advertising, and sales including high level positions with some of nation's largest dealers.
In early 2012, they began assembling the framework of what would become CBT News. Headquartered in Atlanta, the network started with a once daily broadcast accessible at cbtnews.com. The initial on-air programming was delivered by two anchors including Bridget Fitzpatrick and Russell Brown.
In 2014, the company was renamed CBT Automotive Network to better reflect the growing scope of its business and coverage. The offering expanded beyond the once daily newscast to include a wide variety of programing that covered emerging trends, expert training, new developments and opportunities for different areas of the dealer operation.
This included the launch of Car Biz Today Magazine, reaching every new car dealer in the country, offering a rich selection of incisive articles, news and information on a wide variety of topics. It's reach was extended even further through a digital format that can be accessed online.
Viewers tuned-in daily to incisive interviews with general managers, thought-leaders, government representatives, association chairs, and industry influencers.  There are insights on a wide variety of current topics such as how dealerships can capitalize on the fast growing automotive aftermarket, running an efficient dealership in the digital age, one-price selling, generational recruitment, and practical strategies for building customer loyalty and retention to name a few.
CBT became home to 9 network shows including Auto Marketing Now with Brian Pasch, On the Mark with Mark Tewart, Straight Talk with David Lewis and The Tom Stuker Show among others. New faces and new levels of expertise are added regularly as monthly segments, including the Kerrigan Report featuring the buy / sell expertise of Kerrigan Advisors.
CBT became the go-to source for dealers to find trusted content on the best practices and analysis of trends taking shape within the industry. Its broadcasts had the same professional look and feel as the top network such as CNBC, Fox Business, or MSNBC.
"From the beginning, we have been focused on creating not just a look, but a reality that was professional enough to attract the biggest names in the auto industry to the show," said Bridget Fitzpatrick, co-founder and COO.
Along with it's professional look, the programs have attracted the big name movers and shakers in the auto industry. Among those making appearances on CBT have been the likes of University of Alabama head football coach Nick Saban, along with the presidents of the National Auto Dealers Association and AutoNation, not to mention the Chairwoman and CEO of General Motors, Mary Barra.
Over the course of the first two years, CBT began to earn the trust of dealers, experts and advertisers. The goal was maintaining a focus on helping dealers sell more cars and provide better service.
Over the years the network has become a familiar face in nearly every dealership in the country – more than 90 percent of all retail new car franchises. Their faithful followers have provided a steady stream of appreciation and suggestions.
"It is important for us to connect with our audience regularly by attending automotive industry shows and conventions. We hear great feedback and what the programing means to them. Much of the response is about the value of the programs and how the knowledge gained from the network is making their day to day work easier, more productive and more profitable. It's what keeps us going," Bridget added.
CBT also staged an industry event in 2016 and 2017 – the CBT Conference + Expo. These three day programs were held in Atlanta and brought together more than 1000 participants. Attendees were able to hear from and meet such industry experts as Football Coach Nick Saban and Marcus Lemonis, host of the CNBC show The Profit. Other presenters included digital marketing guru Gary Vaynerchuk (GaryV), team management expert Patrick Lencioni, author of The Five Dysfunctions of a Team, and "Unmarketing" author and social media expert Scott Stratten.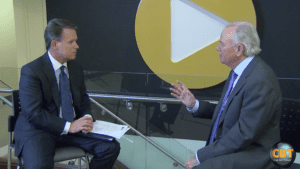 The CBT team and brand have become a familiar presence at the National Automotive Dealers Association annual convention. Joining more than 28,000 attendees, this yearly event provides a prime opportunity to not only meet the leaders in the industry, but provide coverage of news, emerging trends and developments.
"Having a ready source of information and knowledge has never been more important. The auto industry and the selling of cars has clearly begun to change in a very short period of time. The internet is playing a far larger role in the sales process then many could have imagined," said Jim.
Now 98 percent of all consumers will start their shopping process online prior to visiting the dealership. More and more they are using the internet or online tools provided to do more of the car shopping and financing before they reach the dealership. As a result, shoppers visit fewer dealerships and come armed with much more knowledge than at any time in the past. There is far less opportunity to form relationships through the sales personnel and less time to make the sale.
"This evolution of the customer relationship is one of the issues that has really gotten the attention of dealers. These issues have also contributed to a squeezing of profits for dealers. Even as the industry has come off one of its best sales years in history with more than 17.3 million units sold, it is now facing the prospect of a decline in auto sales. Today, automotive success is all about efficiencies and making more money. Dealers are facing mounting margin compression and there is little profit left thanks to the pressures of more informed buyers." added Jim.
Throughout these ups and downs and evolving challenges, CBT has been part of the industry. It has helped dealers focus on alternative revenue streams that can bring more profit to the dealership.
When they needed it most, CBT Automotive Network has been a true partner with the dealer community.
"CBT is and will continue to be the retail automotive industry's #1 source for news, emerging trends, expert training, and informative interviews." Bridget Fitzpatrick.