Submitting year-end accounting can be a difficult and time-consuming process for dealers. From completing W-2s and 1099s to processing 1095-Cs, the list of forms due around the new year often feels endless and can cause a last-minute frenzy. However, it's critical to the operational success of your dealership to complete these documents accurately and on time to ensure compliance with IRS requirements.
Fortunately, this tedious process only takes place once a year. However, that also means dealerships may not be as familiar or comfortable processing these forms as they are with more day-to-day operational tasks like budgeting, reporting or tracking expenses. With both W-2s and 1099s due on January 31, it should come as no surprise that Dealertrack DMS' Accounting and Payroll department sees an almost 50% spike in its call volume, from approximately 1,300 interactions (emails, calls, voicemails) weekly to 2,000, during the month of January and the first week of February. Of these calls, 25% relate directly to W-2s while 82% are training calls from clients on how to complete tasks within the system.
Ready to set your dealership up for success in 2019? Then it's time to dominate year-end accounting by mastering all the resources your DMS provider has made available to you. Three key resources stand out in particular: peer-to-peer platforms, participating in trainings, and reading digital materials.
Peer-to-Peer Platforms
According to Forrester's 2018 Customer Service Trends Report, customers increasingly use self-service channels as the first point of contact for support. While customer support is still widely utilized, people often look to other means for obtaining information and assistance. Regardless of the vertical, people often find themselves Googling the answers to their questions. However, nothing compares to peer-to-peer communities.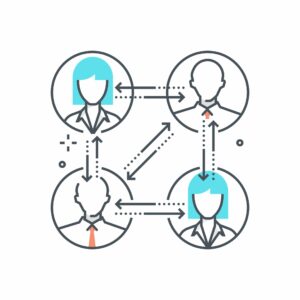 Offered by some DMS providers, peer-to-peer communities enable users to share ideas, questions, and information with each other to reach to solutions faster. Look for a discussion forum specifically focused on year-end accounting for starters. Dealertrack DMS, for example, has a "Year-End Group" in its DMS 360 portal that connects users from across the country to discuss best practices, state specific challenges, and any questions around the end-of-year accounting process, such as how to print W-2s and how to accurately complete forms. These open forums reduce the time spent calling customer support, while simultaneously helping to foster a community that can only be achieved through technology.
Trainings
The technological revolution paved the way for the creation of YouTube in 2005. Quickly after its launch, users started posting "how-to" videos that have become go-to resources for today's consumers looking for a step-by-step, hands-on explanation of how to complete a specific task or action. If you search "how to" on YouTube, the top results teach people to tie a tie or wrap a gift. Why can't it be as simple as a quick "how to" video for dealership accounting forms as well?
Online training sessions or webinars are another way for dealership personnel to brush up on skills to ensure they are completing the necessary accounting forms accurately and efficiently. Oftentimes, you can sign up for live training sessions through an online portal or watch pre-recorded webinars that walk you through the complicated accounting process. Broken down by type of form, these online training sessions and informational videos can assist with questions by demonstrating the process through a shared screen where an expert explains the process step-by-step.
Digital Materials
Digital materials are also beneficial while learning about a new or complicated process. Most websites now have frequently asked questions (FAQs) or user guides to help you better understand products and processes. Your DMS provider should offer similar resources to help you complete year-end accounting.
Step-by-step explanations and FAQs can explain in greater detail how to accurately complete these forms. Digital tax tables and practice forms can also help walk dealers through end-of-year reporting. These digital materials enable dealers to answer their own questions without added wait time from customer support and prioritize forms that take longer to work more efficiently.
You want your dealership to end the year smoothly, knocking out your accounting dates one-by-one. Taking advantage of your DMS provider's various resources helps navigate this tricky terrain and will start 2019 on the right foot.
Matt Hurst is the senior director of client services at Dealertrack DMS.