Chip Perry, CEO of TrueCar, sits down with Jim Fitzpatrick of CBT News to discuss why automotive dealers should not fear the digital retailing trend and how TrueCar is turning one of their core values into an effort to support and help American Heroes.
There has been an obvious shift in the industry towards digital retailing and marketing. You can even say it came and took over. Does this mean that traditional dealerships should be concerned? According to Chip Perry, No. "We think that most transactions are going to continue to happen in the dealership. People still want to touch, smell, and drive the car" he recently told CBT News at the NADA Show.
Consumers wish the purchasing experience was quicker and more convenient. Search tools provide that potential buyer with data so they can crunch their numbers and do their homework. That's where search tools end, Perry says, "They are heavy on the speed and convenience, and a little light on the validation and transparency". This could mean a salesperson will always have an edge over any search tool while simultaneously also saying that dealers need to now be that much more transparent.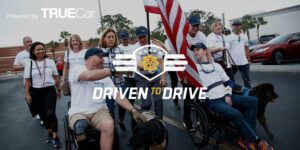 Perry also shared with our network how TrueCar took one of the companies core value and used that passion for good. One of their core values is to 'Serve Passionately' and they are doing just that by helping The Disabled American Veterans. Driven to Drive seeks to empower disable veterans who have difficulties driving or obtaining a vehicle that is appropriate to their needs.  Their Ambassador this year is Army Ranger, Cory Remsburg. Remsburg served for ten tours in both Iraq and Afghanistan. On his last tour, he had been nearly killed by a massive roadside bomb. Driven to Drive has given Cory and others the ability to get back in a car and continue their efforts to live their lives passionately.
To find out how your dealership can get involved, or to learn more about the Driven to Drive's efforts of getting disabled veterans back into vehicles, please visit truecar.com/driventodrive.