The automotive industry is running toward a problematic shortage. According to information from the US Bureau of Labor Statistics, by 2026, the automotive repair industry will need 46,000 more service technicians to meet demand. Currently, the retirement of the last generation of service technicians has left vacancies of 75,000 job openings in any given year. While many have noticed this trend, one automotive group is looking to turn the tide.
Icahn Automotive Group, a company that operates auto repair and service maintenance firms like Pep Boys, AAMCO, and Tune Auto Care has established a new program to increase the service technician pipeline. With Race to 2026, Icahn Automotive will build partnerships with trade schools, offer scholarships, establish apprenticeships and internships, and create opportunities for job placement.

According to Brian Kaner, president of service for Icahn Automotive Group and Pep Boys, the need for technical training regarding service repairs is needed more now than ever before, "Over the past several decades, vehicles have become highly computerized while we allowed the disinvestment in technical education and steered a whole generation toward four-year degrees and crippling student debt. Now, the need for service is increasing as people keep their cars longer and fleet populations grow, and the national conversation about the skilled trades is peaking as parents and students realize that technical training is again, as it always has been, an excellent first step to a successful career."
This realization of a growing gap between the increasing evolution of computerized cars and a lack of students pursuing technical degrees spurred the group's efforts to start the Race to 2026 program.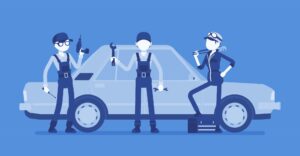 How a Lack of Service Technicians Can Adversely Dealers
It goes without saying that a lack of qualified service technicians can have a devastating impact on the automotive industry as a whole. Not only will there be a shortage of physical talent, but there are other far-reaching impacts associated with this trend. Dealerships will have to spend more money to acquire experienced service technician talent which can put a massive dent in hiring budgets. It will also be harder to find technicians that are well-trained in advanced computer technologies that are now standard in most vehicles.
A lack of service technicians also makes it challenging to create a robust service department. It will be challenging to develop streamlined processes that promote excellent customer experiences without a steady service technician pipeline. Therefore, a program like the one Icahn Automotive has established is essential to the overall health of the automotive industry.
How Dealers Can Overcome the Shortage
The Race to 2026 program will likely have long-term positive effects on the industry. However, the impact may not be immediate for dealerships across the country. So, how can you ensure your dealership is staying ahead of the curve regarding this coming shortage? It takes some forethought and intentionality, but it can be done. Here are three ways dealers can prepare for an imminent service technician shortage:
Partner with Nearby Technical Schools
Much like Icahn Automotive, it is an excellent idea to identify technical programs within the vicinity of your dealership and make plans to partner. Talk with school administrators to see if you can be a part of an internship or apprenticeship program. The school can funnel service technicians to you for a "try-out" period that can eventually turn into a permanent hiring situation.
Provide Your Current Team with Regular Technician Training
Again, automobiles are becoming more technologically advanced. As a result, service technicians have to be ready to handle the repairs that may come with these new features. Allowing current technicians to participate in classroom and hands-on training not only equips them for malfunctions related to these new technologies, but it also gives them the opportunity to pass on what they have learned to apprentices and interns.
Have a Succession Plan in Place for Current Service Technicians
Regardless of how long a service technician has been working for you, at one point or another, they will leave their position. Whether it be through finding another opportunity or retirement, you have to prepare for their departure. So, create a succession plan for their transition. Work with them to identify an acceptable period between their notice and exit, and see if there is a way to overlap their last weeks on the job with a new hire for training. It is crucial that you communicate what you need from them before they leave, so you have the time and resources to replace them quickly.
Final Thoughts
Icahn Automotive is leading the charge when it comes to identifying the shortage of service technicians and creating a method dealing with the problem. The numbers may seem daunting, but it is not impossible for dealers to overcome this situation. On a micro-level, dealers can take many of the same steps as Icahn to help fill out their service technician pipeline. From partnering with local technical schools to setting up internships, dealers can put themselves in a position to come out on top even in the midst of a service technician shortage.