Republicans are expected to unveil detailed bills later this week to support development of self-driving cars. Included in the soon-to-be-proposed legislation are regulations that prevent states from implementing their own restrictive laws on autonomous testing and development as well as modifying current rules that were not intended for driverless cars.
Fourteen bills are expected to be introduced this week to the House. It's led by a U.S. House of Representatives Energy and Commerce subcommittee and includes representatives from both parties. Republican Sen. John Thune and Democrats Sen. Bill Nelson and Sen. Gary Peters are presenting the bills which may be "the first ever changes in federal law" for self-driving cars and technology, according to a statement by Thune.
"Self-driving vehicle technology will have a transformational impact on highway safety," said Sen. Thune. "These principles underscore our commitment to prioritizing safety, fixing outdated rules, and clarifying the role of federal and state governments."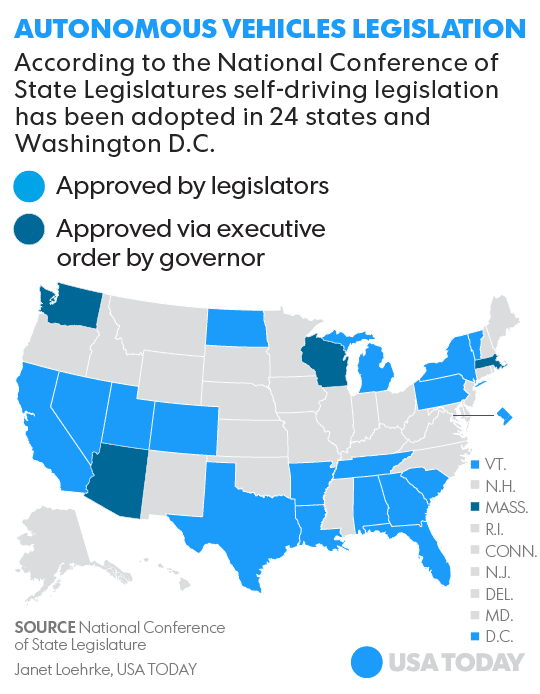 Source: USA Today
The tight noose on driverless technology
Currently, the development of self-driving car technology is heavily restricted. Manufacturers are required to apply for an exemption when a car under development is not equipped with required manual controls such as a steering wheel and foot pedals. Those exemptions are limited to just 2,500 units per year.
Many state governing bodies have been reluctant to offer support for self-driving cars, much less pave the way to successful development. Individual states have been setting their own laws regarding self-driving cars and development, often restricting the use to testing only, as is the case in Arkansas. Other rules implemented include a required licensed driver in an automated vehicle, and designating the person who initiates self-driving motion as the operator.
Encouraging development and lifting restrictions
Changes to the current roadblocks have been proposed. One such issue is the extremely limited number of exemptions permitted at only 2,500 annually. The U.S. House of Representatives Energy and Commerce subcommittee's bills include changes to those US regulatory exemptions which would allow up to 100,000 units per manufacturer per year.
Perhaps the most significant proposed bill prevents individual states from implementing state-specific laws governing development and use of self-driving cars. This has the potential to change the landscape of autonomous development nationwide as many tech companies devoted to self-driving cars are limited to expensive areas such as California.
Strong emphasis on safety
One portion of the bills intended to go before lawmakers this week targets the National Highway Traffic Safety Administration (NHTSA). The bill takes away the agency's power to pre-approve vehicle technologies in self-driving cars. The purpose is clear: require the same stringent, safety-conscious testing on autonomous cars as is necessary on all other motor vehicles.
Manufacturers stand up for development
Standing alongside the subcommittee are the Alliance of Automobile Manufacturers and the Association of Global Automakers. The two groups represent several major carmakers including General Motors Co, Volkswagen AG, Toyota Motor Corp, Honda Motor Co, and Hyundai Motor Corp. They've formed the Coalition for Future Mobility, coming together to pressure congress into a supporting role in self-driving car development and implementation.
Republican U.S. Representative Robert Latta, speaking in June, said he hoped to gain committee approval of the bipartisan legislative package by the end of July.