Welcome to the Kerrigan Advisors Market Update with Bridget Fitzpatrick and Erin Kerrigan, founder and managing director of Kerrigan Advisors. June's Kerrigan Report addresses the month's sales performance, stock valuations, and the current buy-sell market. Watch the full interview above to find out more or find the full Kerrigan Report here.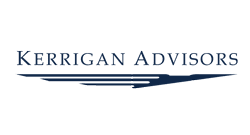 VIDEO TRANSCRIPTION: 

Bridget Fitzpatrick: Hello everyone. I'm Bridget Fitzpatrick. Welcome to the Kerrigan Advisors Market Update. Today. We're joined by Erin Kerrigan. Thanks so much for joining us today, Erin.
Erin Kerrigan: Thanks for having me, Bridget.
Bridget Fitzpatrick: How was the Kerrigan Index performance in June?
Erin Kerrigan: June was an awesome month. The index was up over 10%. We hit a level we haven't seen in some time. That to give you a sense is up over 30% from December 2018's low. It was driven primarily by a few stocks that really outperformed, namely CarMax, which hit an all-time high in June and also Groupon and Asbury. Those two stocks hit 52-week highs.
Bridget Fitzpatrick: What is that strength driven by?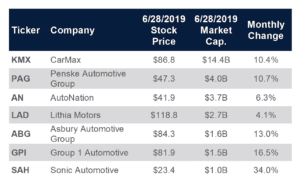 Erin Kerrigan: Well, we think it's primarily driven by the fact that it looks like the feds might reduce interest rates and that's certainly good for the auto retail market. But, it's not just that. We're seeing that these companies continue to perform, their earnings are strong, and a lot of that is driven by the diversified business model that auto retail is so fortunate, frankly, to have. We have not only new car sales that we rely on, but also used car sales, and used car sales have been tremendously strong. In fact, if you look at industry-wide, we are approaching a 1:1 new to used ratio.
Erin Kerrigan: That's a ratio we haven't seen in some time and that is a very exciting place to be for the industry because we make a lot more. There's a lot more gross margin on used cars than there are on new cars.
Bridget Fitzpatrick: With the public stock prices up, do you expect them to become more acquisitive?
Erin Kerrigan: We actually do expect them to become more acquisitive. They started out the year pretty slow. They had anemic growth in terms of the number of dealerships they acquired. In fact they, they actually didn't grow. They shrunk the number of franchises they owned. They sold 18 franchises in the first quarter. They acquired five. That's a net decline of 13 franchises and their total spending declined over 68% for the quarter in terms of acquisition spending on US dealerships. We think that's going to turn around with their stock prices. Their stock prices rise.
Erin Kerrigan: That helps their valuation, that helps their multiple and that allows them to acquire more dealerships because more acquisitions are creative to earnings for them.
Bridget Fitzpatrick: What other trends are you seeing in auto retail?
Erin Kerrigan: Well, one of the trends that we're very focused on is tracking the debt levels for the industry. One of the things that we've noticed recently is that a lot of dealers, rightly so, turn to the debt markets to finance their acquisitions and their growth. There's been an enormous amount of debt that has been issued to car dealers over the last decade as they've grown coming out of the recession. The challenge now is that as earnings have declined a bit, equity levels have shrunk and so the debt to equity ratio of the industry has risen 30% to 1.4. That's a pretty high ratio.
Erin Kerrigan: It's something we're tracking and the reason being is that at a certain point dealers will have limited capacity to take on more debt and make acquisitions and that would certainly not bode well for the buy-sell market. We haven't seen this become a big impact yet, but it is certainly something that we are keeping an eye on and could have negative implications on valuations, particularly if we don't see a decline in interest rates, which we are very much hoping we will see.
Bridget Fitzpatrick: What about dealership real estate? How has it fared?
Erin Kerrigan: Dealership real estate has been an incredibly important part of the buy-sell market. For dealers that own their real estate and they sell their real estate along with a transaction, they continue to hit all-time high valuations because real estate often is about 60% of total transaction value and real estate prices have continued to rise every quarter. Now, we will say that we notice this quarter that the dealership rents declined for the first time since the recession, and that could be an indication that we're starting to hit peak real estate prices.
Erin Kerrigan: We don't know that yet, and it is something that we also are keeping an eye on. For now, real estate is such a key part of every transaction and it's particularly important because most buyers can finance a tremendous amount of the real estate. Again, you can see how important the debt markets are to our industry and to the buy-sell market and right now they're very healthy and very amenable to working with buyers and sellers.
Bridget F.: Well, thanks so much for joining us, Erin. We really appreciate your insight and we look forward to talking with you again next month.
Erin Kerrigan: Thanks so much for having me. Have a great rest of the summer.
Thank you for watching the official news source of the retail automotive industry. This has been a JBF Business Media Production.