The high cost of employee turnovers continues to plague the retail automotive industry as employee retention rates are now in the low twenties. Chase Abbott joins the CBT Automotive Network for a discussion on what your dealership can do to improve retention and how it can save your store money.
Abbott started in the car business during college in 2003 where he has spent six years on the retail side of the industry, and in the most recent years Abbott is a part of the Cox Automotive group where he is now Vice President, Sales at VinSolutions & Dealertrack F&I.
The vice president begins by telling Jim Fitzpatrick something that everyone knows, he explains the lead up to margin compression and how internet continues to drive a lot of data into dealerships these days. As there is not much the industry can do to rework the clock and multitude of reasons why we are seeing this shrinking margin, Abbott explains how there is one area in specific that dealership tend to overlook and it tends to take up the majority of your dealership profits.
Employee retention in dealerships is no easy feat. Many say that for years jobs in the car industry was like a rotating door. If you were wondering how bad employee retention is in this industry, Abbott and Cox Automotive did a study that could provide you a lot of answers.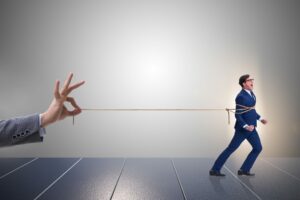 According to the results, the average turnover for a dealership is at 40%. The number goes up to 67% when you specifically look at the turnover rate on average for sales associates. This means that two out of every three sales associates at your store will leave. And when those two out of three leave, some sooner than others, Abbott shares that dealerships will spend $10,000.00 on finding their next new hire. He continues to break down those numbers and how it affects your bottom line, "if you look at that over an average store that has 30 salespeople, that will tally up to about $200,000.00 per year that you got going out the back door for employee retention and unsatisfied employees"
There are ways that you can help increase your employee retention. Abbott suggests that you start with honestly evaluating where you currently are. Whether that be with staff, hours, or process, take the time now to audit how you are running your teams and ask yourself if this is the most effective way to do so. Secondly, he suggests shifting your dealership's focus to your tools and ensure that all your departments are running off of technology and equipment that support an inclusive workplace.