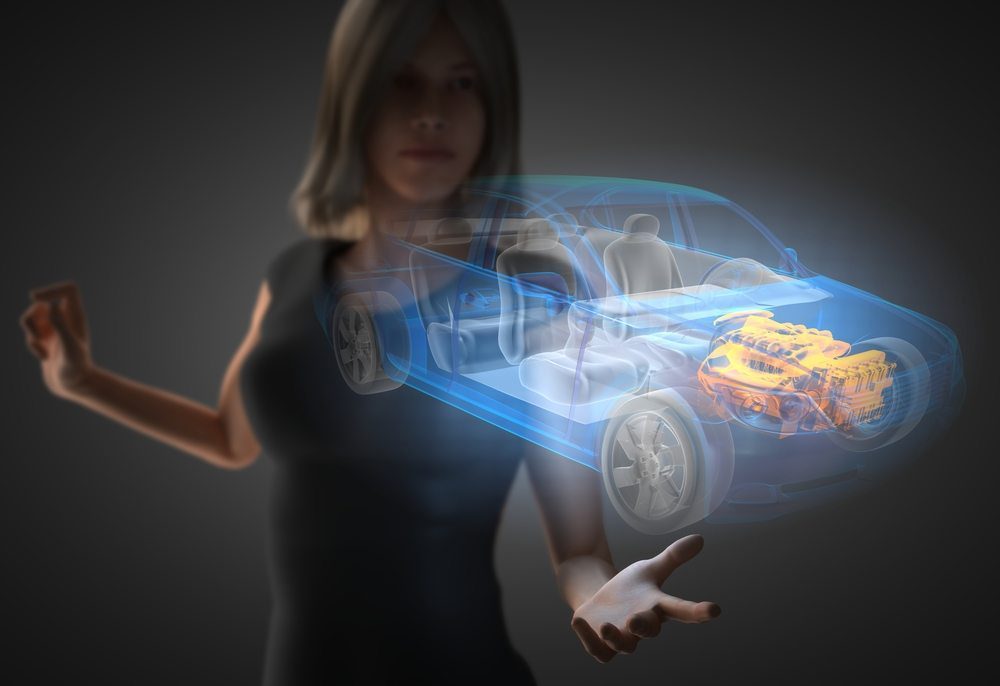 Will holographic technology make the tablet – or even the F&I manager – obsolete? BY GEORGE ANGUS
Americans love technology. That's a fact. And staying abreast of new technology has become an American obsession. That obsession has extended to the car business to some extent. Certainly some innovations like F&I menu software, e-contracting and programs designed to speed up the buying process have found favor with dealers. With new technology coming down the pipeline on a daily basis, we are bound to see technology that was once considered science fiction become science fact. For instance, holograms could very well become an integral part of our daily lives. In fact, holographic computing is already here.
A little over two years ago I did a Saturday message on technology. In that message I mentioned that our IT guy attended a meeting for processor manufacturers that updated them on a variety of emerging, near-term, commercially available technology.
Since he is familiar with the F&I process after working with us for a few years, he came back from this meeting raving about what he said could be the next "revolution" in technology that could be adapted to F&I. He told me that Microsoft and a couple other software giants had perfected software that actually generated a lifelike hologram. It was estimated to be available in as little as four years. Well, guess what, it got here sooner than expected. Microsoft has incorporated holographic capability to the new Windows 10 platform. The company has not announced a release date, but industry insiders speculate it will be commercially available by the end of 2015.
This software generates a "live" hologram that will soon be able to be programmed featuring a professional actor delivering a scientifically developed product presentation able to answer thousands of questions, and can even be programmed to overcome an infinite number of objections. And because it's incorporated into Windows platform, it will be inexpensive enough for general use.
Simple, hand them the special holographic headset and away we go!
But will holograms, or something just as exotic, replace the F&I manager?
Right now, the market is saturated with dozens of software companies selling iPad or tablet software to present F&I products. And while these products fascinate many in the media, they are still being used by a very small percentage of dealerships around the country. There is currently a lot of debate as to why these programs haven't become the "next big thing."
We have been measuring the results of several different iPad, tablet and F&I presentation software programs for more than three years now. But since we do not sell software or any other products, and have no financial interest either way, we have approached the technology from an unbiased view. And the criteria we use in evaluating any product or service reflects that approach.
Are tablets already losing their novelty?
Computer and software technology is developing so rapidly that it's a moving target. Any technology you bought six months ago is probably already obsolete.
Two years ago Bloomberg News predicted there would be a massive growth of tablet sales into 2015. However, just last month they backed off that prediction in a series describing the "surprising" decline in tablet sales. While tablet sales have stalled in the past 18 months, the sales of laptops and mobile phones have increased.
I fly somewhere almost every week and I have noticed this trend. Just a year ago, I would be on a flight and see tablets everywhere. Now, I see more and more laptops and smart phones being used by business travelers. Almost every airplane has Wi-Fi and people are being more productive while in flight rather than playing video games.
Our Gen Y and Z interns tell me that the "cool factor" drives a lot of this and that having the latest device is a status symbol. Pulling out a tablet to younger people is like pulling out a Blackberry just a few years ago.
Does it fill a need or are we just chasing the "cool factor"?
Everyone wants to be on the cutting edge of technology. No one wants to fall behind. But the one thing that comes with any new technology is cost. Even the current, very simple F&I presentation programs out there require the purchase of some kind of device from $600 to even $26,000. And the monthly fees can run from $300 to several thousand dollars.
As I have reported before, we conducted a fairly comprehensive performance review and follow up survey measuring the actual results in dealerships already using these electronic F&I sales tools. And to give the products the benefit of the doubt, we focused on already above average performing F&I departments who were provided versions of these "pad" or "tablet" type tools. I think it's safe to say that if something doesn't produce added income, reduce F&I time, or show any benefit in CSI scores for those people, it probably won't for the rest of us.
You see, we don't sell these products. And for us to recommend that dealers and agents invest in a new process, it will have to prove to do something our current process doesn't do. It will have to fill a need that isn't already being fulfilled.
Does the technology work?
Well, it depends on what results you are looking for. For example, in a recent article in a trade journal, a dealership was featured that adopted a particular tablet program. Their success story was that they had increased their per unit average $300. That sounded pretty impressive until, in the next sentence they said their next goal was to reach $1000 per unit. For them, this was a great improvement. However, I'd guess there's a pretty good chance that if you start at $300-500 per unit, almost any change in your process would improve your numbers.
Will the F&I managers use them?
The developers of any new F&I presentation technology will have to sell the idea to the F&I managers or, believe me, it won't get used. Selling the dealer or GM on the idea is great, but as we all know, if the F&I managers don't want to use it, it won't work. And if you peruse some of the websites where F&I managers are free to express their opinions, you find that many don't seem to like these devices.
This was reinforced in our study in dealerships that had already spent the money for the iPads, software, Smart Pads, etc. In a surprising number of these dealerships the iPad or other devices were stuck in the drawer of the F&I managers' desks. When we asked them about their usage, they would say, "Oh, I use it once in a while" or "When the boss makes me use it".
The future?
To replace or enhance the current F&I processes and get F&I managers to accept any new technology, it will have to make their job easier, faster and produce more income than whatever they are using now.
The key factors in the success of any new technology will depend on the speed and ease of use, its effectiveness, how it survives examination by the consumer protection enforcement entities and the willingness of F&I managers to use it.
But our analysis and study continue and we're still looking ahead. It's clear that there are some new technological developments coming down the pike that may offer some promise and we will be watching and measuring their results very closely.