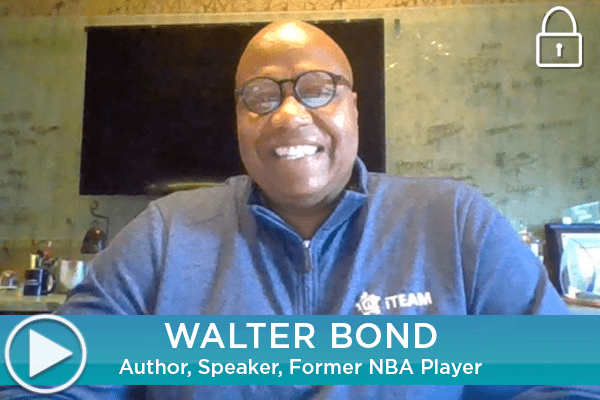 Today on CBT News, host Jim Fitzpatrick is joined by former NBA player Walter Bond. Bond spent time in the league playing for the Dallas Mavericks, Utah Jazz, and the Detroit Pistons. Bond now serves as CEO of Walter Bond Worldwide Inc, which provides quality training and motivation to companies across the country. He is also the author of the book, Swim: How a Shark, a Suckerfish, and a Parasite Teach You Leadership, Mentoring, and Next Level Success. Bonds joins the show to discuss what automotive leaders and associates should be doing to maintain positive energy in their business.
Bond begins the conversation by discussing what people should be focused on to maintain motivation. He says that the COVID-19 pandemic could easily be someone's excuse to lack motivation or the drive needed to build success. For automotive leaders and associates to be successful, excuses must not be used as a defining factor in reaching goals in life.
Bond says that chaos can be a ladder. Automotive dealers, managers, and employees must decide what kind of attitude they will have during the chaos. People who remain positive are able to come out as victors, while those who choose to be pessimistic come out as victims. 
In the automotive industry, the mindset of managers is contagious to the rest of the team. If managers bring negative energy to the dealership, it will begin to spread to associates. Bond says it's crucial for dealers to assemble a strong team around them to keep negativity from gaining a foothold in the business. Automotive teams must view the pandemic as an opportunity to compete instead of seeing it as a pass for excuses. 
Bond concludes the conversation by discussing the perspective of customers. Customers remember how automotive salespeople made them feel. If salespeople don't work diligently to connect with customers, they will cost the dealership future business opportunities with those customers or the people they know.