On Saturday night alone, more than 20 inches of rainfall accumulated in just eight hours in the Houston area as Hurricane Harvey made landfall. Despite scrambling to protect inventory and property, hundreds of dealerships and their employees are facing a long road ahead to clean up after the storm.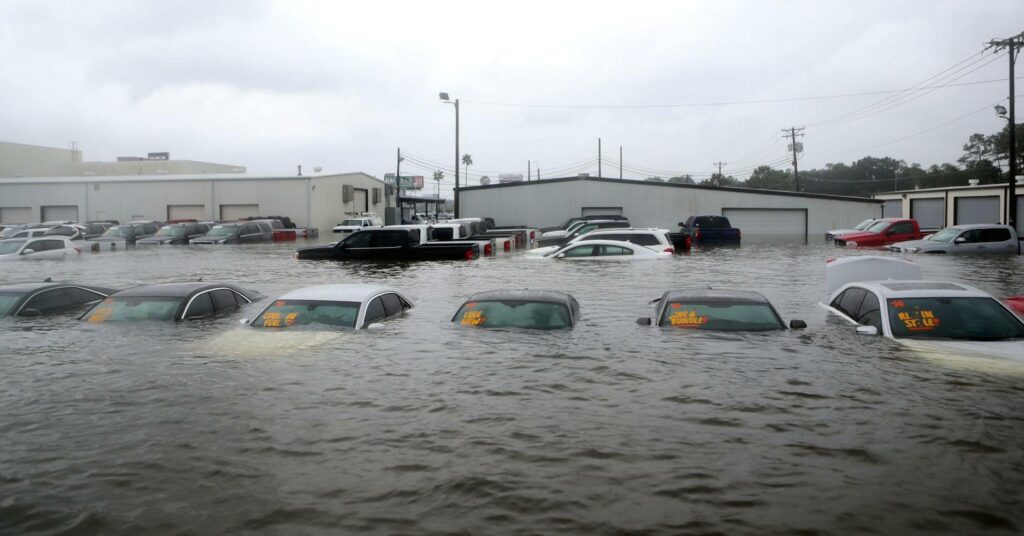 Widespread Damage to Dealerships
It's estimated that Hurricane Harvey has affected up to 400 dealerships in some fashion. Some car lots have experienced a total loss of their inventory on the ground; hundreds of vehicles partially or fully submerged in floor waters. President of the Texas Automobile Dealers Association, Bill Wolters, says Aransas Autoplex in the coastal town of Port Aransas was heavily affected.
"As many as 350 dealerships throughout the region have closed because of flooding, power outages or other damage from the storm, which made landfall as a Category 4 hurricane," Bill Wolters, president of the Texas Automobile Dealers Association told Automotive News.
Others, like the Gillman Automotive Group, have escaped major damage so far. However, there's still 20 to 30 inches or rainfall expected in the next day or two.
Thousands of Dealer Staff Affected
One of the major issues even for dealerships largely undamaged by the massive storm is staffing. It's estimated between 300,000 and 500,000 homes in the area have experienced flooding in some manner. That means many dealer employees are probably affected, with 30,000 people employed in the Houston-area dealerships.
As well, road closures and overland flooding have restricted access to many parts of the city. Dealerships, including 18 AutoNation stores and seven collision repair centers.
How Can Dealers Give Assistance?
It will take months for dealerships to recover from the devastation left in Hurricane Harvey's wake. Once the waters recede, accurate damage estimates then can be performed. In the meantime, there are needs that other stores nationwide can help provide.
Make Dealer Transfers Available.
Tens of thousands of customer cars are now a total loss, and the ports of Houston and Galveston are out of commission to receive new shipments until the damage has been assessed. With dealership inventory completely wiped out at some stores, filling demand is certain to be challenging. Dealers nationwide can help replenish inventory by making dealer transfers available, or by moving units to dealers in the Houston area.
Provide Financial Assistance.
For thousands of families in the Houston area, Harvey has had life-changing effects. Between flooded homes, lost wages, and property loss, it could take years to recover and financial aid is most assuredly required in some form.
You can contribute to aid agencies in the United States that include the American Red Cross, United Way of Greater Houston's Flood Relief Fund, and through the Salvation Army. Most agencies provide tax-deductible receipts for donations.
As well, the National Automobile Dealers Association, NADA, will disperse funds through its NADA Foundation Emergency Relief Fund. Those who wish to do so can donate, while those in need of relief can apply directly through NADA.org.