ALPHARETTA, Ga. – Concluding a nearly $20 million investment, DataScan has officially moved its headquarters to 415 South Broad Street in the new Alpharetta City Center, a thriving 26-acre mixed-use parcel located in the heart of downtown Alpharetta.
"We are eager to officially unveil our beautiful new headquarters to area dignitaries, business leaders and local media," said Ed Brown, president of DataScan. "DataScan's investment in the City Center is further evidence of our longstanding commitment to Alpharetta, while our new home better aligns with our company's spirit of innovation and work-life balance. We are confident this move will provide a strategic advantage when attracting new technology talent and allow us to strengthen our ties to the community at large."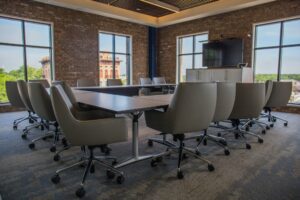 The largest company in the City Center, DataScan brought approximately 160 technology-related jobs, which represent in excess of $20 million in annual salaries, back to North Fulton County. The company employs more than 500 full-time associates across North America.
The new, state-of-the-art, 36,000 square-foot facility, which features its own medical clinic for associates, is an interesting mix of old and new architecture with pronounced modern design elements. The exterior features a brick facade with dramatic arches inspired by the late 19th and early 20th centuries. The interior space is open, airy and bright with an industrial feel, exposed beams and plenty of well-thought-out collaboration spaces. There is also a covered patio on the fourth floor that overlooks the City Center where associates can kick back and relax, eat lunch or work from their laptops.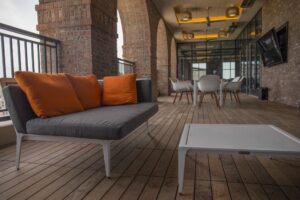 As part of its efforts to minimize environmental impact, DataScan is in process of obtaining Silver LEED certification for its new facility for implementing practical and measurable strategies and solutions aimed at achieving high performance in water savings, energy efficiency, materials selection, recycling program and indoor environmental quality.
DataScan provides clarity and manages risk for banks and financial institutions in the United States and Canada. Its Wholesale Intelligence solution helps clients manage floorplan loans to dealers of automotive, agriculture and power sports vehicles. The Audit Intelligence solution leverages advanced technology and a team of field associates to simplify the client's risk management process.
About DataScan
DataScan provides clarity to wholesale loan accounting and manages risk with a holistic auditing solution by leveraging advanced technology and highly skilled associates to simplify the complex risk management process. DataScan is part of World Omni Financial Corp., a diversified financial services company headquartered in Deerfield Beach, Fla. World Omni is a subsidiary of JM Family Enterprises, Inc., an automotive corporation ranked No. 20 on Forbes' list of America's Largest Private Companies and No. 51 by FORTUNE® as one of the 100 Best Companies to Work For®, its 20th consecutive year on the list. To learn more, visit OneDataScan.com.
View photos of DataScan's new headquarters