With a penchant for politics, Cody Lusk has been an ideal fit for his role as President and CEO of American International Automobile Dealers Association (AIADA).
Before joining AIADA, he spent years working inside the Beltway as a political operative. He held prominent roles including chief for staff to U.S. Rep. Sam Johnson and as an appointee under the George W. Bush administration for then-Secretary of Commerce Don Evans.
That experience primed him for his current job where he serves as the face of the only national trade association representing America's 9,600 international nameplate automobile franchises.
Advertising Partner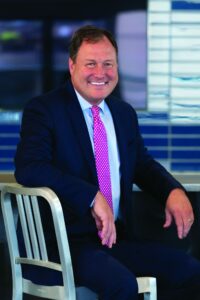 In his role, he leads AIADA as they advocate before Congress, The White House, and federal agencies.
With the tariff issues at the forefront of the industry's concerns, Lusk has been particularly engaged this year.
Fallout from the steel and aluminum tariffs have already been responsible for declining profit forecasts at GM. There is also grave concern about levying tariffs on imported auto and auto parts.
In late July, Lusk and representatives from every other automotive association in America penned a letter to Trump. The letter ran as a full-page advertisement in the Wall Street Journal and urged the president to not raise import tariffs on autos and auto parts:
"Your Administration is now considering the possibility of increasing import tariffs on autos and auto parts, including imports from countries where we have had long-standing, mutually beneficial trading relationships. While we understand that you are working to achieve a level playing field for trade to create more jobs, raising tariffs is the wrong approach."
Lusk said they are working hard on finding a solution that will appease both the White House and automotive dealerships.
The issue has united the automotive industry as a whole.
Lusk has noted that if an auto import tariff is levied it could potentially force the cost of cars up thousands of dollars. He is also concerned that not only will the auto business suffer, but it will affect the U.S. economy as a whole.
With strong roots in the GOP, we asked Lusk if he found it tough to reconcile going against someone from his own party who sat in the White House.
"As Congressman Sam Johnson used to say, nobody is correct all the time," he said.
Lusk cited an example of when he saw Johnson, a Republican, tell then-President George W. Bush he was wrong. Lusk said the key is honesty, but paired with respect.
We had a few minutes to talk with Lusk last month. He spoke candidly on the technology, self driving cars and how, regardless of change, it's people-to-people interaction that make the sale.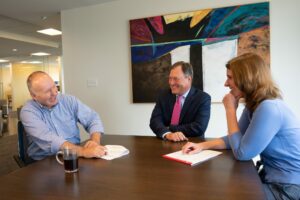 On the 'Tesla Model'
While a handful of pundits have touted the direct-to-consumer model – generally referred to as the 'Tesla Model' –  Lusk still believes person-to-person interaction is the key.
"Tesla is sinking by way of its own model with overpromising and under delivering. Nobody knows how to deal with consumers better than the auto dealers who've been doing it for over 100 years. And dealers haven't been doing it the same way for 100 years. We adapt. We are utilizing new technologies. We are enhancing the buying conversations on a daily basis."
On Technology
Lusk sees technology as a tool to dealerships, not as a threat. He believes it can provide for a more fruitful conversation during the buying process.
"It's a customer people-driven business. Technology has enabled our dealers to better serve our people."
Trust the People
If you talk to Lusk long enough, he will eventually mention how tough the people are in the retail automotive industry, how strong they are, and how good they are at adapting.
"It's a very challenging business and a lot of people underestimate how hard this business is," he said, before adding, "But, nobody does it better than America's import auto dealers."
Self-Driving Cars
It seems like yesterday when every pundit was telling us self-driving cars would be here tomorrow. But, like many innovations, the excitement outpaced the reality. Lusk noted that while the technology may be moving at a strong pace, the other issues surrounding self-driving cars are a long way from being resolved. Those issues range from everything from how local governments will view self-driving cars to insurance and liabilities. He said the autonomous vehicles are coming, just not tomorrow.
"In the future, there will be a way for them to co-exist them," he said.
Role Models
Lusk touts Ronald Reagan's leadership during the Cold War as an inspiration. He also lists his former boss Secretary of Commerce Don Evans and his father, Jack, a west Texas homebuilder, "who taught me the value of family."
When it comes to political maneuvering, he cites Congressman Sam Johnson who taught him how to persevere and to be honest, yet respectful.
"[Congressman Johnson] taught me to shoot straight with people," he said.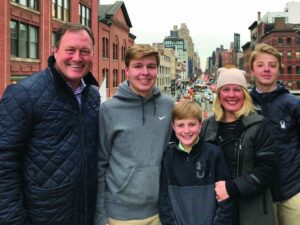 Off the Clock
With three teenage sons, Lusk admits he and his wife, Michelle, devote the bulk of their free time to their family.
"Driving back and forth to sports practices," he confesses with a chuckle.
He is also a huge fan of the Texas Longhorns. He was at the title game when the Longhorns clinched the national title over USC in 2005. This year, he's already made plans to make the drive south from D.C. to College Park when his beloved Longhorns play Maryland on Sept. 1st.