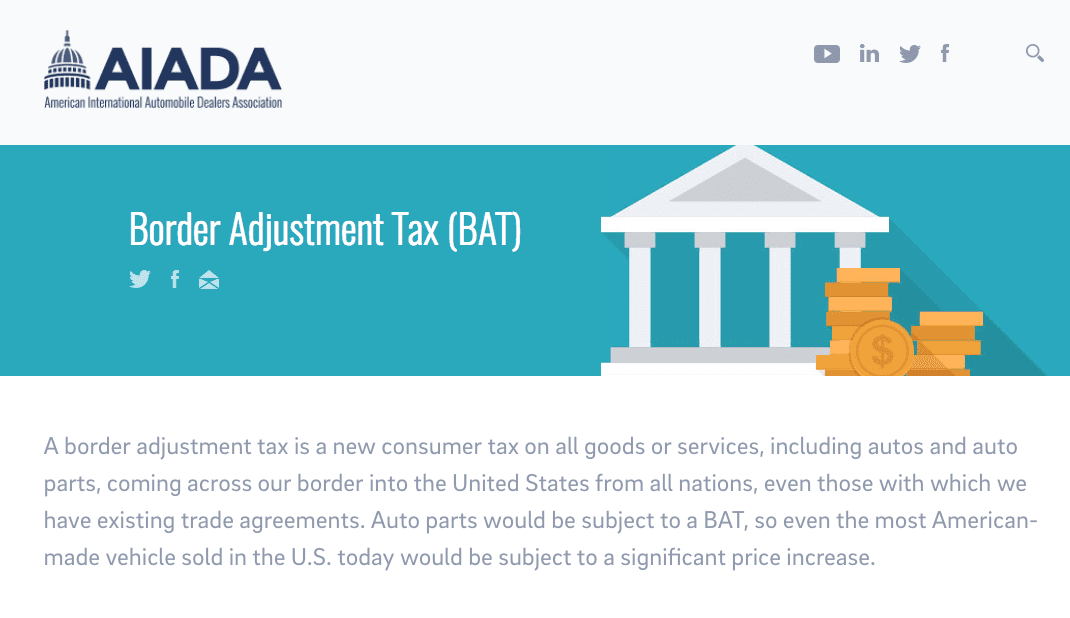 Alexandria, VA (July 27, 2017) – America's 9,600 international nameplate automobile dealers received good news today from the so-called "Big Six" – a group of lawmakers and administration officials working together to establish a road map for tax reform – who have officially abandoned a potential border adjustment tax (BAT).
House Speaker Paul Ryan (R-Wis.), Senate Majority Leader Mitch McConnell (R-Ky.), House Ways and Means Committee Chairman Kevin Brady (R-Texas), Senate Finance Committee Chairman Orrin Hatch (R-Utah), Treasury Secretary Steven Mnuchin, and White House National Economic Council Director Gary Cohn jointly released a statement of principles reaffirming their commitment to passing substantive tax reform for all Americans while finally rejecting the border adjustment tax (BAT) proposal that would have added a 20 percent tax on all goods and services imported into the United States.
"The framework released today by Congress and the Trump administration places the tax reform train squarely back on its tracks," said AIADA President Cody Lusk. "The border adjustment tax would have driven up costs on everyday goods and put Americans out of work. Now that it's off the table, and the business community is no longer divided by this issue, we can now get back to work on supporting this important legislation."
The American International Automobile Dealers Association (AIADA), whose members employ 577,000 Americans and accounted for 59 percent of all U.S. retail vehicle sales last year, would have been uniquely impact by a BAT. Because no vehicles are made with 100 percent American-made parts, the BAT would have added an average of $2,000 to the cost of all new cars sold in the United States, regardless of their origin. The decision by the White House and Congress to listen to the concerns of consumer and business groups – including AIADA – and scrap the BAT allows auto dealers to throw their support behind a tax reform plan that promotes economic growth, rewards entrepreneurship, and creates a level playing field for all Americans.
A 2017 study by the Center for Automotive Research (CAR) estimates that U.S. light vehicle sales would immediately fall by 5.6 percent following implementation of a border adjustment tax, resulting in a $34.6 billion overall cost to U.S. consumers. For more information on how a border adjustment tax would have impacted America's international nameplate dealers, and how they have spent much of this year battling it, visit www.aiada.org/bat.
###
About AIADA: Established in 1970, AIADA is and continues to be the only association whose sole purpose is to represent America's international nameplate automobile franchises that sell and service the following brands: Acura, Aston Martin, Audi, Bentley, BMW, Ferrari, Genesis, Honda, Hyundai, Infiniti, Jaguar, Kia, Land Rover, Lexus, Maserati, Mazda, Mercedes, MINI, Mitsubishi, Nissan, Porsche, Rolls Royce, Scion, Smart, Subaru, Toyota, Volkswagen, and Volvo. These retailers have a positive economic impact both nationally and in the local communities they serve, providing more than 500,000 American jobs. Visit AIADA online at www.aiada.org.