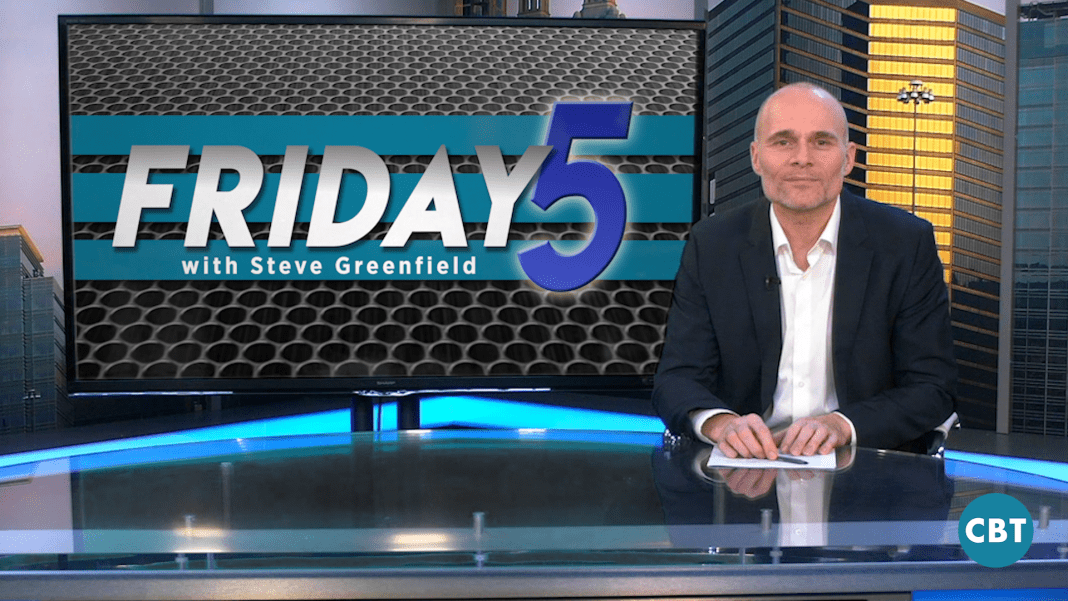 Welcome to this episode of The Friday 5 with Steve Greenfield, Founder and CEO of Automotive Ventures, an auto technology advisory firm that helps entrepreneurs raise money and maximize the value of their companies.
Well, the show must go on, and this week Mike Stanton, the CEO of NADA reiterated that the NADA Conference is still on in Las Vegas in mid-March. I'm looking forward to seeing a number of you out there.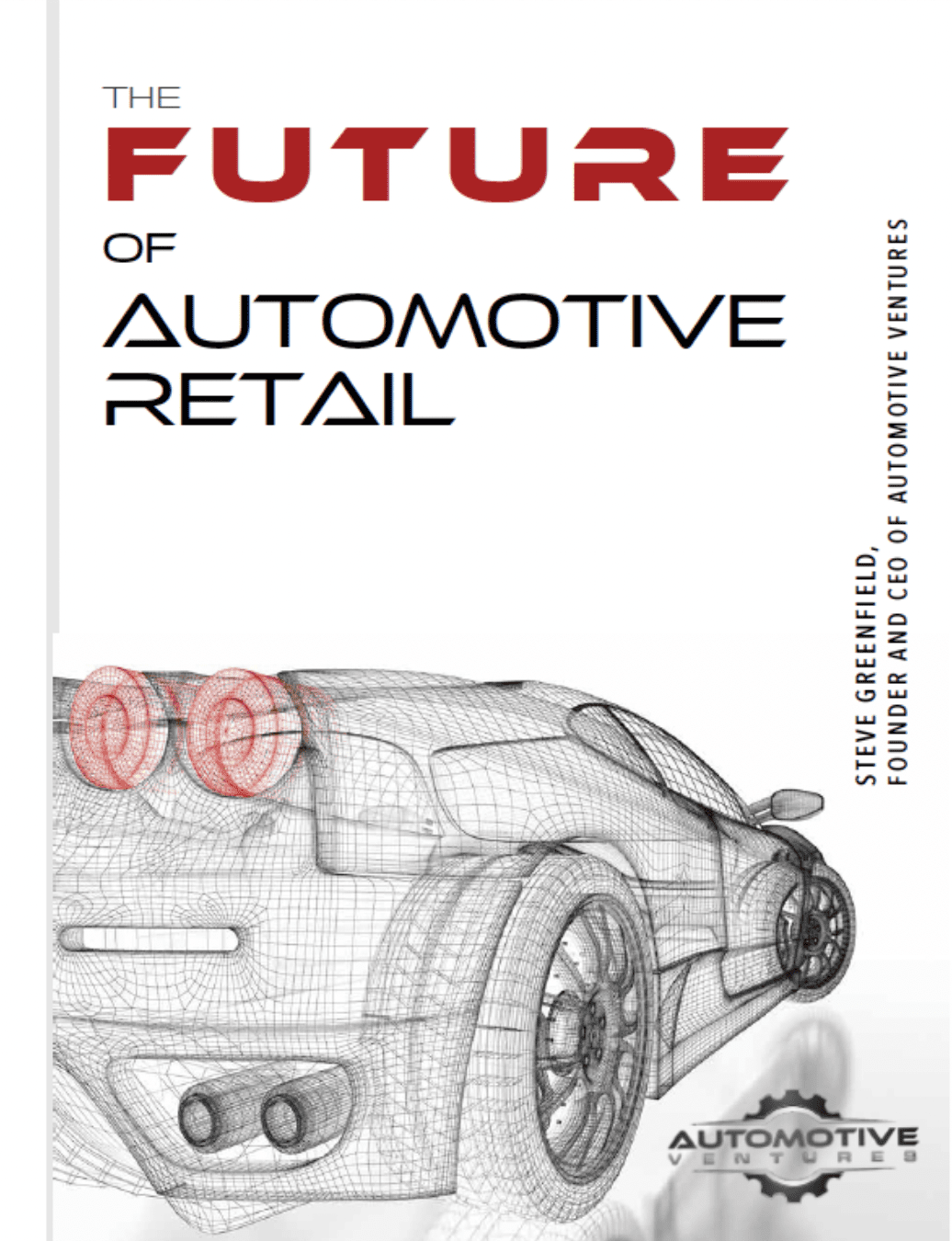 Just ahead of NADA, my new book will be out, titled The Future of Automotive Retail. In the book, I overview the various themes that are most likely to impact auto dealerships' businesses over the next 5 to 10 years, and I attempt to provide some practical advice on how to prepare to weather upcoming disruptive forces.
For all of you who tune in to the Friday Five, I'd be thrilled to send you an advance copy of the book, just click here.
This week, the industry has a new B2B wholesale vehicle platform for dealers, powered by CDK Global.
CDK, the largest of the DMS providers, introduced what they're calling CDK CarSource, an online wholesale marketplace that connects dealers to used vehicle inventories nationwide through a seamless integration with CDK Drive, the industry's leading dealership management system used at more than 9,100 retail locations.
The new solution is an added benefit to dealers using CDK Drive that creates opportunities for time and money savings. It enables automated inventory listings to the marketplace from a large, trusted network of actively governed and screened sellers nationwide.
It also allows all dealers—including those using other dealer management systems—to search or bid on vehicles at no cost and offers the most competitive wholesale transaction fees – along with discounts for CDK customers.
It'll be interesting to see how much adoption this solution gets from dealers, and how big industry players like KAR Global, Manheim and ACV react to the news.
Self-driving tech firm Cruise said SoftBank's Vision Fund has agreed to invest an additional $1.35 billion dollars into the company through a second tranche as Cruise works to launch its commercial ride-hailing service in San Francisco.
In 2018, SoftBank Vision Fund invested $900 million dollars in the General Motors-backed self-driving firm and committed to investing another $1.35 billion dollars when Cruise vehicles were ready for commercial deployment –  at the time scheduled for 2019.
And finally, Solera, the leading global provider of integrated vehicle lifecycle and fleet management software-as-a-service, data, and services, has signed an agreement to acquire Spireon, one of North America's largest device-independent telematics and connected vehicle intelligence companies, from Greenbriar Equity Group.
Solera is currently owned by Vista Equity, and made the news last year when they announced the acquisition of DealerSocket.
Solera's strategic acquisition of Spireon will further strengthen its position as the leading provider of AI-powered software, services, and data assets to four critical pillars of the vehicle lifecycle, those being: Vehicle Claims, Vehicle Repair, Vehicle Solutions, and Fleet Solutions.
Spireon currently serves over 13,000 customers in the automotive, fleet, trailer and asset sectors with nearly 4 million connected devices that generate over 900 billion discrete data points on its cloud-native IoT platform each year.
Spireon delivers powerful insights to help customers in these sectors track, manage and protect their most valuable assets.
Companies To Watch
Every week we highlight interesting companies in the automotive technology space to keep an eye on. If you read my monthly industry Intel Report, I showcase a few companies each month, and we take the opportunity here on the Friday Five to share some of those companies each week with you.
Our first Company to watch this week is KnowSmoke.
Knowsmoke helps car shoppers measure whether a car has been smoked in.
Their thirdhand smoke test kit is simple, easy to use, and provides results in minutes.
Before buying a used car, verify it's smoke-free with KnowSmoke.
Check out KnowSmoke, at www.knowsmoke.com.
Our second company to watch this week is Lectrium.
Lectrium handles your EV charger installation, quickly, safely and with the lowest prices anywhere.
Book your EV charger installation today.
Lectrium provides a fully managed service that combines high-quality design, materials, and installation into a single, stress-free charger installation experience.
Check out Lectrium at www.Lectrium.io.
——————-
People often ask me why I'm affiliated with CBT News.
Besides having an outstanding, extremely talented, and hardworking team up here at the studio, I greatly appreciate the valuable role that CBT News plays in the automotive industry.
Every day, I eagerly look forward to my morning email from CBT News to ensure I'm getting the most up-to-date and relevant information on the industry.
I encourage you to tune in to CBT News to ensure that you're getting the automotive news that matters.
——————-
So that's your weekly Friday Five, a quick wrap-up of the big deals in the automotive technology space over the past week.
If you're an early-stage automotive technology entrepreneur looking to raise money, or an entrepreneur who is trying to decide whether and when they should raise money or sell their business, I'd love to speak with you.
Thank You For Tuning into CBT News for this week's Friday Five, and we'll see you next week!
---
Did you enjoy this podcast episode of The Friday 5 Please share your thoughts, comments, or questions regarding this topic by submitting a letter to the editor here, or connect with us at newsroom@cbtnews.com.
Be sure to follow us on Facebook and Twitter to stay up to date or catch up on all of our podcasts on demand.
While you're here, don't forget to subscribe to our email newsletter for all the latest auto industry news from CBT News.